Free Wheelchair Mission Founder Don Schoendorfer Wins AARP® Purpose Prize® Award and Inspire Award®
Don Schoendorfer wins AARP Purpose Prize and Inspire Award
The five AARP Purpose Prize winners (PC: Stephen Voss for AARP)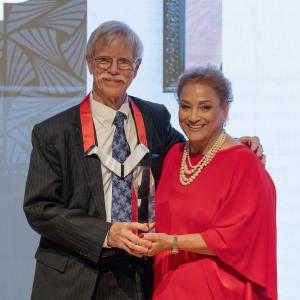 Don Schoendorfer (left) and AARP CEO Jo Ann Jenkins (right) (PC: Stephen Voss for AARP)
A total of $60,000 awarded to provide 625 new wheelchairs
IRVINE, CA, USA, November 1, 2023 /
EINPresswire.com
/ --
Free Wheelchair Mission
President and Founder Don Schoendorfer was honored with both the AARP
®
Purpose Prize
®
Award and Inspire Award
®
. The Purpose Prize was announced on September 26, 2023, and the Inspire Award was announced by AARP in a ceremony in Washington, DC on October 25, 2023.
The
AARP Purpose Prize
is a prestigious annual award that honors those above 50 years old who have used their knowledge and life experience to make a difference. The AARP Inspire Award is presented to one AARP Purpose Prize winner, decided through votes by the public. AARP is a nonprofit, nonpartisan organization that empowers people to choose how they live as they age.
"Our Purpose Prize winners and Fellows are shining examples of a simple, yet profound truth: When we find our sense of purpose—that certain something that gives us a reason to get up and get going every day—we not only give meaning to our own lives; we make the world a better place for everyone," said AARP CEO Jo Ann Jenkins.
At the AARP event on October 25, Schoendorfer was honored during a ceremony and reception alongside the other four AARP Purpose Prize winners. Each of the AARP Purpose Prize winners' organizations were awarded with $50,000.
At the end of the ceremony, Schoendorfer was called back on stage and was announced as the sole 2024 AARP Inspire Award winner. This additional award includes a $10,000 prize awarded to Free Wheelchair Mission in addition to the $50,000 awarded with the AARP Purpose Prize.
"I am extremely honored and humbled to receive the AARP Purpose Prize and Inspire Award," said Schoendorfer. "I'd like to thank AARP, all of our supporters, including those who voted, and our team and partners worldwide."
The award ceremony included a video that highlighted Schoendorfer's story of founding Free Wheelchair Mission and the nonprofit's work providing 1.4 million wheelchairs in 94 developing countries over the past 22 years.
The monetary prizes going to Free Wheelchair Mission will support the ongoing efforts of Free Wheelchair Mission by sending 625 wheelchairs to individuals with disabilities in developing countries.
"We are so proud of Don, and we joyously celebrate this accomplishment together," said Free Wheelchair Mission CEO Nuka Solomon. "Thank you to AARP for this honor and for helping to provide the life-transforming gift of mobility to those who need it most."
More details about the AARP Purpose Prize and Inspire Award can be found at
http://www.aarp.org/about-aarp/purpose-prize
.
To support the work of Free Wheelchair Mission please visit
https://www.freewheelchairmission.org/
.
About Free Wheelchair Mission
Over the past 22 years, Free Wheelchair Mission has provided nearly 1.4 million wheelchairs to those living with disabilities across 94 countries. Founded in 2001 by Don Schoendorfer, Ph.D., Free Wheelchair Mission is a humanitarian, faith-based nonprofit based in Irvine, California, that designs and manufactures cost-efficient, durable wheelchairs for individuals living with disabilities in developing countries. In collaboration with a worldwide network of like-minded partners that facilitates wheelchair distribution, the charity provides renewed dignity, independence, and hope through the gift of mobility, all at no cost to the recipient.
Connect with Free Wheelchair Mission:
Website:
www.FreeWheelchairMission.org
Facebook:
www.facebook.com/freewheelchairmission
Instagram:
www.instagram.com/fwmission
LinkedIn:
www.linkedin.com/company/free-wheelchair-mission
TikTok:
www.tiktok.com/@freewheelchairmission
Brad Cooper
Free Wheelchair Mission
+1 949-529-1984
bcooper@freewheelchairmission.org