China National GeneBank Sequence Archive von Cell Press empfohlen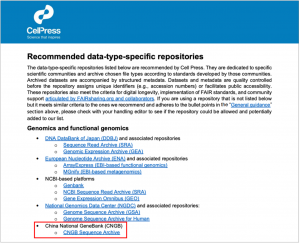 Das China National GeneBank (CNGB) Sequence Archive (CNSA) wurde von Cell Press als datenartspezifisches Repository empfohlen.
CNGB Sequenz-Archiv (CNSA) website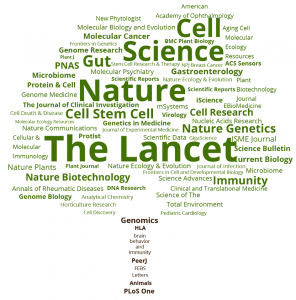 Internationale wissenschaftliche Publikationen, die durch Daten der CNSA unterstützt werden.
SHENZHEN, CHINA, September 27, 2023 /
EINPresswire.com
/ -- Das China National GeneBank (CNGB) Sequence Archive (CNSA), ein System zur Bewahrung, gemeinsamen Nutzung und Anwendung von Daten, wurde kürzlich von Cell Press als Repositorium für Genomik- und Funktionsgenomikdaten empfohlen.
CNSA steht damit in einer Reihe mit anderen internationalen Repositorien, die von Cell Press empfohlen wurden, darunter die DNA DataBank of Japan (DDBJ), das European Nucleotide Archive (ENA), das U.S. National Center for Biotechnology Information (NCBI) und das China National Genomics Data Center (NGDC).
Gegründet im Jahr 2011 ist das CNGB eine weltweit führende nationale integrierte Genbank, die der Öffentlichkeit zugänglich ist. Das CNGB wird unabhängig von BGI-Research im Auftrag der Regierung betrieben, ein Modell ähnlich dem von den National Laboratories der USA verwendeten Modell im Besitz der Regierung und betrieben von Auftragnehmern.
Diese Aufnahme bedeutet, dass Cell Press die CNSA offiziell anerkennt und ihre Zustimmung und Empfehlung der CNSA unterstreicht. Forscher aus aller Welt, die ihre Manuskripte bei Cell Press einreichen, haben nun die Möglichkeit, ihre wissenschaftlichen Daten zu archivieren und mit der CNSA zu teilen, was die Glaubwürdigkeit und den Wert der CNSA weiter unterstreicht.
Cell Press wählt die empfohlenen Repositorien auf der Grundlage von Kriterien und allgemeinen Richtlinien aus, die von der wissenschaftlichen Gemeinschaft vereinbart wurden und die die Unterstützung und Anerkennung der Repositorien innerhalb der wissenschaftlichen Gemeinschaft, die Umsetzung der FAIR Data Guiding Principles (FAIR: Auffindbarkeit, Zugänglichkeit, Interoperabilität und Wiederverwendbarkeit) und den offenen Zugang ohne unnötige Einschränkungen hervorheben.
CNSA promotes the open sharing of multi-omics data, including genomics, transcriptomics, metabolomics, single-cell and spatial transcriptomics. The system provides secure, stable and convenient data archiving services to researchers worldwide, promoting the use and reuse of multi-omics data and advancing the development of global life sciences.
As of August 2023, CNSA has archived 11,691 TB of multi-omics data and supports the submission and sharing of scientific research data from over 400 research institutions worldwide. The data supports the publication of 1,229 papers in 353 journals, including world-renowned journals such as The Lancet, Science, and Cell.
Die CNSA wurde bereits von mehreren internationalen Verlagen und Zeitschriften anerkannt, darunter Wiley, Oxford und die Science-Reihe. Die Aufnahme in Cell Press ist eine weitere internationale Anerkennung für CNSA in den Bereichen Data Governance und offene wissenschaftliche Datenpraxis.
Cell Press wurde 1974 gegründet und ist ein weltweit führender Verlag für biomedizinische Spitzenforschung und Rezensionen in den Bereichen Biochemie, Genetik, Neurowissenschaften, Immunologie, Krebs und anderen Disziplinen.
Richard Li
BGI Group
email us here
Visit us on social media:
Facebook
Twitter
LinkedIn