iData Research Unveils US Dental Prosthetics Innovation, Led by Glidewell Dental, National Dentex, & Affordable Dentures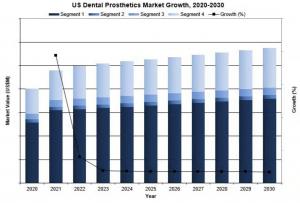 Digital dentistry, the future of production, has transformed the dental prosthetics market. CAD/CAM systems enhance precision and speed in prosthetics creation, outpacing traditional methods."
— Kamran Zamanian, CEO at iData Research
VANCOUVER, BRITISH COLUMBIA, CANADA, September 21, 2023 /EINPresswire.com/ -- iData Research, a leading global market research firm specializing in medical devices, dental and pharmaceuticals, highlights the imminent expansion of the global dental prosthetics market in the updated 2024 market report. This comprehensive report delves deep into various market segments, including crowns and bridges, inlays and onlays, veneers, dentures, denture teeth and computer-aided design/computer-aided manufacturing (CAD/CAM) prosthetics.
By the year 2030, the US dental prosthetics market is poised for continued expansion due to demographic dynamics. The age group of individuals aged 65 and above is experiencing the fastest growth in the United States. Since seniors constitute a substantial portion of the clientele for dental prosthetics, this demographic trend will play a pivotal role in fostering ongoing market growth. iData's latest report conducted an extensive analysis of over 25 dental prosthetics laboratories and companies, employing a rigorous methodology to assess market sizes, unit sales, company market shares, and generate precise forecasts.
Key highlights from the iData report include:
Robust Market Expansion: In 2023, the US dental prosthetics market reached a valuation of $10.2 billion. This valuation is expected to continue its upward trajectory, with a projected Compound Annual Growth Rate (CAGR) of 1.7%, ultimately reaching $11.5 billion by the end of the forecast period.
Aesthetic Preferences: ​​In the past, crowns and bridges were primarily crafted using full-cast or porcelain-fused-to-metal (PFM) techniques, resulting in less appealing aesthetics. However, advancements in ceramic materials like zirconia and lithium disilicate have greatly enhanced the visual appeal of crowns and bridges, leading to a sustained increase in demand within the overall crown and bridge market. Today, these dental restorations serve both functional and aesthetic purposes. Crowns, in particular, are gaining popularity, especially for single-tooth restorations, as their aesthetic quality continues to improve.
Chairside CAD/CAM Systems: The rise of chairside CAD/CAM systems in dental offices is a key driver of the inlay and onlay market. Dental labs produce fewer of these restorations now, as chairside systems enable dentists to create them in a single patient visit. Inlays and onlays are less invasive than crowns, and the availability of CAD/CAM technology encourages some dentists to make them on their own, boosting market growth.
Competitive Landscape: iData's report provides an in-depth analysis of the competitive landscape, profiling key players and their strategic initiatives. Currently, Glidewell Dental, National Dentex Corporation, and Affordable Dentures lead the US dental prosthetics market.
For more information on the US Dental Prosthetics Market, and to access the complete iData Research report, please visit:
https://idataresearch.com/product/dental-prosthetics-market-united-states/
About iData
iData Research stands out as the premier market research and intelligence provider, offering unparalleled insights and comprehensive data analysis across a multitude of industries. With a strong reputation and a proven track record, iData Research has solidified its position as the best choice for businesses seeking to make informed decisions in today's dynamic market landscape.
Why Should You Choose iData?
Extensive Industry Coverage: iData Research boasts an impressive range of industry coverage, spanning healthcare, medical devices, dental, pharmaceuticals, biotechnology, and more. This breadth of coverage ensures that clients from various sectors can access accurate, up-to-date information relevant to their business goals.
High-Quality Data: The cornerstone of iData Research's success is its commitment to providing high-quality data. Their team of expert analysts employs rigorous methodologies to collect and analyze data from reliable sources. This ensures that clients receive accurate, insightful, and actionable information to guide their strategic decisions.
In-Depth Analysis: iData Research goes beyond mere data presentation by offering in-depth analysis that goes right to the heart of industry trends, market dynamics, and competitive landscapes. Their reports provide a holistic understanding of market forces, helping clients identify opportunities and challenges.
Customized Solutions: Recognizing that every business is unique, iData Research offers customizable solutions that cater to specific client needs. Whether it's a small startup or a multinational corporation, their tailored offerings provide the right insights to drive growth and success.
Timely Updates: Staying ahead in today's fast-paced business environment requires access to real-time information. iData Research ensures that its clients are equipped with the latest data and insights, enabling them to make agile decisions and adapt to market changes swiftly.
Global Perspective: In an increasingly interconnected world, having a global perspective is essential. iData Research's reports provide insights into various geographic markets, enabling clients to make informed decisions regardless of their business's location.
Trusted by Industry Leaders: The fact that iData Research is trusted by industry leaders and renowned companies speaks volumes about the quality of their services. Their client list includes major players who rely on their insights for strategic planning.
Emma Matrick
iData Research
+1 604-266-6933
email us here
Visit us on social media:
Facebook
Twitter
LinkedIn