NEXCOM Delivers Cost Effective Desktop Solution for Secure Business Applications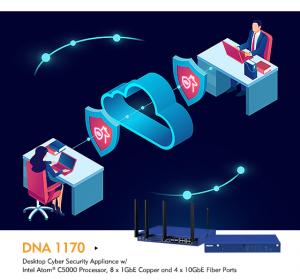 DNA 1170 Series Outperforms the Competition in Cybersecurity Benchmark Testing
Across diverse benchmark tests covering cybersecurity applications, including SSL/VPN, advanced CPU encryption, and cipher performance with enabled accelerators – the DNA 1170 showed a clear advantage"
— Peter Yang
FREMONT, CA, USA, September 25, 2023/
EINPresswire.com
/ -- NEXCOM, a leading global supplier of network appliances, announced today the launch of the
DNA 1170
Series, a cyber security appliance offering server-grade performance in a desktop form factor. The new cybersecurity desktop line from NEXCOM provides a cost-effective solution for small and medium-sized businesses, as the demand for secure, encrypted connections to corporate networks within existing cybersecurity architectures continues to grow.
The NEXCOM DNA 1170 is a server-grade desktop powered by the Intel Atom
®
C5300 processor, with embedded Intel
®
QAT. It features eight 1GbE copper and four 10GbE fiber ports to meet various requirements for fixed wired connectivity. A dedicated SKU reserves space to install 5G/LTE and Wi-Fi 6E modules, supporting an increase in demand for wireless routing in IoT and FWA use cases. Encrypted connections ensure the safe transmission of sensitive data and prevent unauthorized access, allowing users to work remotely and securely.
"In today's world, small and medium-sized business owners must continuously evaluate and improve their cyber security plans. A strong cyber defense is a must, no matter what size your business is – but the cost of keeping up can be overwhelming," said Peter Yang, President of NEXCOM. "At NEXCOM, we're convinced that there is no better product for businesses with limited cyber security budgets, who depend on strong online protections and fast data transfer, than the new DNA 1170 Series."
Across diverse industry benchmarking tests covering cybersecurity applications, including SSL and VPN, advanced CPU encryption, and cipher performance with enabled accelerators – the DNA 1170 showed a clear advantage. In three distinct cybersecurity benchmarking tests conducted by NEXCOM, the DNA 1170 demonstrated superior capabilities compared to RISC- and x86-based alternatives, making it the ideal choice for SMB security requirements. It was tested alongside a RISC-platform 1U rackmount and an advanced desktop with a lower-performance x86 processor, and the DNA 1170 continuously outperformed the competition in overloaded, complex computing conditions and simulated Internet application environments.
The DNA 1170 Series features dynamic, low-noise fans that will not disturb employees when network equipment is placed near work areas. It offers a superior cost-performance ratio, as well as configuration flexibility from different SKUs and additional 5G and Wi-Fi expansion capabilities. The DNA 1170 also features optional storage expansion with a 2.5" SSD. Redundant power adapters ensure high availability and uninterrupted operations in case of unexpected shutdowns.
"We designed NEXCOM's DNA 1170 Series with server-grade performance inside a desktop form factor. Besides its networking capabilities (both wired and wireless), its performance in numerous security-related tests is unsurpassed, making it the perfect choice for powering the cybersecurity applications that every business depends on," said Yang.
Features
● Intel Atom
®
C5315/C5325 processor
● 2 x DDR4 SODIMM, up to 16GB
● 8 x 1GbE RJ45 ports
● 4 x SFP+ ports
● 2 x 65W AC power adapters
● Supports Wi-Fi 6E (optional)
● Supports LTE/5G (optional)
● 4 x 1GbE RJ45 ports with 2 x bypass pairs
For more detailed technical information, please download the
white paper
. To learn more, please visit the
NEXCOM website
.
About NEXCOM
Founded in 1992, NEXCOM integrates its capabilities and operates eight global businesses, which are Industrial Mesh, Intelligent Platform @ Smart City, Intelligent Video Security, Mobile Computing Solutions, Medical and Healthcare Informatics, Network and Communication Solutions, Smart Manufacturing, and Open Robotics and Machinery. This strategic deployment enables NEXCOM to offer time-to-market, time-to-solution products and services without compromising cost.
Peter Yang
NEXCOM
+1 510-386-2266
peteryang@nexcom.com
Visit us on social media:
LinkedIn