igus Mobile Exhibition Visiting Rock & Roll Hall of Fame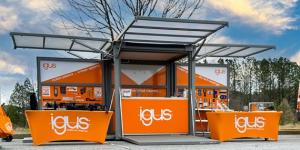 The igus mobile trade show will be stationed outside the Rock & Roll Hall of Fame on Tuesday, September 19. (Photo courtesy of igus)
New and existing customers can learn and discuss solutions to design challenges
STAMFORD, CT, USA, September 14, 2023/
EINPresswire.com
/ -- igus' mobile exhibition trade show will be stopping outside the Rock & Roll Hall of Fame in Cleveland on Tuesday, September 19.
The exhibition will be stationed outside the Hall of Fame from 11 a.m. to 1 p.m. The mobile exhibition brings the trade show experience directly to customers and will feature the company's latest innovations in low-cost automated solutions and its innovative RBTX products, which help businesses design robots specific to their applications.
Multiple company experts will be on-site to help manufacturers learn more about igus, the manufacturer of high-performing plastic components. All of igus' components are lubrication-free, durable, and tested extensively in the company's headquarters in Cologne, Germany. It runs its North American operations out of Providence, Rhode Island.
Trade show on wheels
In keeping with evolving business strategies and meeting customers where they are, igus announced in March that it was expanding its traveling road show for 2023.
The mobile exhibition allows visitors to experience hands-on demonstrations, interactive displays, and consultations with igus personnel. New and existing customers can see and get expert guidance on how e-chains, bearings, cables, and linear technology can solve their application challenges.
The traveling trade show will visit approximately 225 locations in 2023 and consist of two specially designed trailers.
"With the mobile exhibition, we are able to provide information in a relaxed and familiar atmosphere,'' said Felix Brockmeyer, President and CEO of igus. "Above all, we want to address the employees who otherwise do not visit tradeshows and cannot experience products firsthand."
Listen to the music
The visit to the Rock & Roll Hall of Fame is a natural fit for igus, as its components have been included in an assortment of applications related to music and performance.
In one example, a company in Germany developed an
automated drum test
. Using a drylin
®
space portal robot, Feinarbyte developed a test that offers precise repetition. The cymbal is played with uniform impact at defined points, and comparable attack angles provide comparable sound recordings.
In England, a piano builder incorporated igus components
in a hammer system
that offers supreme longevity, climate resistance, and improved playability and sound performance.
On a much larger scale, igus energy chains have been incorporated in performing arts venues. The
Kauffman Center for the Performing Arts
in Kansas City, Missouri, includes a cable carrier system to power overhead speakers and lighting trusses.
Hit the road
Mobile units from igus have been used for several years but were temporarily stalled during the worldwide pandemic. The company brought back the traveling trade show to help make it easier for customers to see firsthand how its products can help solve design challenges.
The visit to Cleveland will allow engineers, materials specialists, and even music aficionados the opportunity to learn more about igus products.
"Cooperation with our customers and getting direct interaction is important to us,'' Brockmeyer said. "Taking our solutions directly to our customers' doorstep enables us to improve our products further and co-create innovative solutions to their toughest technical challenges."
Learn more about the igus mobile trade show at
https://www.igus.com/info/mobile-exhibition
ABOUT IGUS
igus GmbH develops and produces motion plastics. These self-lubricating, high-performance polymers improve technology and reduce costs wherever things move. In energy supplies, highly flexible cables, plain and linear bearings, and lead screw technology made of tribo-polymers, igus is the worldwide market leader. The family-run company based in Cologne, Germany, is represented in 31 countries and employs 4,600 people across the globe. In 2022, igus generated a turnover of €1.15 billion. Research in the industry's largest test laboratories constantly yields innovations and more user security. Two hundred thirty-four thousand articles are available from stock, and service life can be calculated online. In recent years, the company has expanded by creating internal startups, for example, ball bearings, robot drives, 3D printing, the RBTX platform for Lean Robotics, and intelligent "smart plastics" for Industry 4.0. Among the most significant environmental investments are the "chainge" program – recycling used e-chains and participating in an enterprise that produces oil from plastic waste.
Michael Rielly
igus
+1 800.521.2747
mrielly@igus.net