The Daily Scanner Dives Deep into the U.S.-China Chip War with Insights from Kenneth W. Welch Jr.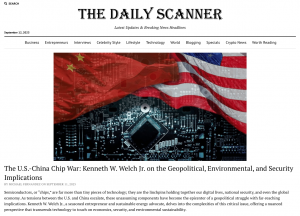 The U.S.-China Chip War: Kenneth W. Welch Jr. on the Geopolitical, Environmental, and Security Implications
Exploring the Geopolitical, Environmental, and Security Layers of the Global Semiconductor Battle, Kenneth W. Welch Jr. Provides Expert Analysis.
Kenneth W. Welch Jr. offers invaluable insights into the chip war, elevating the discourse on a topic that affects global security and sustainability."
— The Daily Scanner
AUSTIN, TEXAS, UNITED STATES, September 13, 2023/EINPresswire.com/ -- The Daily Scanner has recently published an investigative feature that explores the escalating tensions between the U.S. and China over semiconductor technology. The article, enriched by the insights of Kenneth W. Welch Jr., a seasoned entrepreneur and sustainable energy advocate, delves into the complexities of this critical issue that intersects economics, geopolitics, national security, and environmental sustainability.
Semiconductors, commonly referred to as "chips," have become the backbone of modern technology, impacting sectors ranging from healthcare to defense. Kenneth W. Welch Jr. emphasizes that control over this technology is not merely an economic issue but a matter of global influence and security.
The feature also examines China's strategic monopoly over rare earth elements, essential for chip manufacturing. Welch warns that this control is a calculated geopolitical move that poses significant risks, especially for countries like the U.S., which are heavily dependent on these elements.
National security concerns are also highlighted, with Welch indicating that dependency on China for rare earth elements could cripple the U.S. military in a conflict scenario. This is not speculative but a pressing issue that requires immediate policy intervention.
The environmental implications of chip manufacturing are another focus of the article. Rare earth mining and chip production have a significant environmental toll, including toxic waste and water pollution. Welch argues for sustainability to be a priority in this industry.
Interestingly, the article points out a paradox in the renewable energy sector, one of the largest consumers of rare earth elements. Welch describes this as a "catch-22 situation," where efforts to save the planet are ironically contributing to its exploitation.
Kenneth W. Welch Jr. calls for a balanced approach that includes diversifying supply chains and investing in sustainable technologies. "We need proactive strategies that align with both environmental responsibility and national security," he states.
The feature concludes by underscoring the urgency of the situation. "This is a defining moment," says Welch. "Our actions today will dictate our global standing, security, and environmental legacy for decades to come."
The Daily Scanner's feature serves as a comprehensive guide to understanding the multifaceted issue of the U.S.-China chip war, inviting readers to delve deeper into a subject that has far-reaching implications for the future.
Hazel Rose
de Castellane Creative
press@decastellanecreative.com