The Largest Hydrogen Competition in the World Begins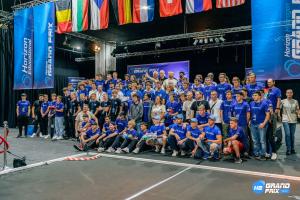 Students came from over 30 countries to attend the race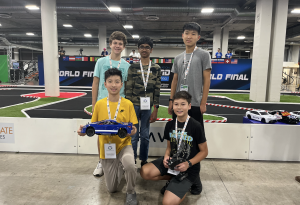 "The Door Knobs" made the journey from Chicago to test their clean energy skills against teams from around the world.
The team that completes the most number of laps in the allotted time is declared the winner
LAS VEGAS, NEVADA, UNITED STATES, September 12, 2023/
EINPresswire.com
/ --
Horizon Educational
launched the
Horizon Hydrogen Grand Prix (H2GP)
World Final at the RE+ energy conference today, bringing together 200 students from 20+ countries who will test their renewable energy technology skills over a six-hour, hydrogen-fueled 'endurance race'.
"These students represent the future of clean energy," said Kamil Jelinek, CEO of Horizon Educational. "They're the future hydrogen car, solar panel and wind turbine specialists that will develop the technology powering communities for decades to come. We're so proud to play a part in building this workforce".
The Horizon H2GP is a global school-based science and engineering program that provides students with hands-on experience in designing, engineering, and racing 1:10 scale remote-controlled fuel cell electric vehicles powered by hydrogen. Students taking part gain employable skills in science and technology while also developing competence in critical thinking, creativity, and teamwork. At the end of the program students are well-equipped for a variety of careers in renewable energy.
This year's Horizon H2GP World Final is the biggest yet, with hundreds of students making the trip to Vegas after taking part in national qualifiers in 30+ countries including Australia, Singapore, and Germany. The student-led teams have traveled to Vegas for the chance to test their renewable energy engineering skills against the best teams from around the world.
The location of this year's H2GP World Final is RE+ 2023 in Las Vegas, North America's largest clean energy conference, bringing together over 40,000 renewable energy professionals and 1,300+ exhibiting companies to network and experience an in-depth education program led by industry experts. As the fastest growing and largest clean energy trade show in North America, RE+ has been ranked 12 times in Trade Show Executive's (TSE) Gold 100 and seven times in TSE's Fastest 50, as well as falling within the 100 Trade Show News Network tradeshows.
***
About Horizon Educational: Founded in 2003, Horizon Fuel Cell Technologies began the sale of miniature fuel cells to demonstrate the technology to schools and students around the world, while investing in R&D of more advanced products and industrial applications. In 2013, Horizon Educational Group was formed as an independent division dedicated to the deployment of a complete range of educational solutions. Horizon Educational develop, produce, and distribute hands-on teaching material and didactic equipment as well as online curricula and educational programs. With distributors in over 150 countries, the STEM kits and technical training equipment have an international reputation for quality, educational content, and award-winning design. Discover more at
horizoneducational.com
Ben Giordano
Horizon Fuel Cell Europe
+1 213-868-4154
ben@horizoneducational.com
Visit us on social media:
Facebook
LinkedIn