Experior Financial Group Inc.'s 'X Marks the Spot' Convention: Memorable Moments and Corporate Breakthroughs in the USA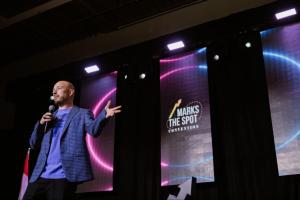 Relive the Excitement and Uncover Game-Changing Developments from Experior Financial's 'X Marks the Spot' Convention!
CHEEKTOWAGA, NEW YORK, UNITED STATES, September 6, 2023/
EINPresswire.com
/ --
Experior Financial Group Inc.
's highly anticipated 'X Mark's the Spot' Convention concluded on August 24th, leaving attendees energized and equipped with a wealth of knowledge, inspiration, and strategic insights. The three-day event, hosted at the Hamilton Convention Center, was a resounding success, featuring a lineup of prominent speakers, captivating performances, and bombshell announcements.
NBA Star Muggsy Bogues Inspires with His Journey:
Renowned NBA star Muggsy Bogues, known for his exceptional career in professional basketball, took the convention stage to share his inspirational journey of determination and resilience. Bogues' insights into conquering challenges and exceeding expectations resonated deeply with attendees, reinforcing the convention's theme of unlocking personal and professional growth.
Mesmerizing Performance by The Painchaud Family:
The convention's gala dinner witnessed a spectacular performance by The Painchaud Family, an acclaimed group of entertainers. Attendees were captivated by their exceptional talents, as the family delivered an unforgettable display of acrobatics and musicality, creating an exciting atmosphere of celebration and camaraderie.
Strong Industry Support from Sponsoring Partners:
Experior Financial Group Inc. extended its heartfelt gratitude to the esteemed sponsoring partners from both Canada and the USA who lent their support to the convention. These influential companies, including Beneva, Equitable Life of Canada, Debt Medic, Quantum, Canada Protection Plan, Industrial Alliance, F&G, Corebridge, UV Insurance, Assumption Life, Serenia Life, Edge Benefits, Manulife, Empire Life, Specialty Life, Desjardins, Travelance, ConnectMyBiz and Global View, contributed to the event's success and reaffirmed their commitment to servicing Experior Financial Group Inc. and the financial services industry.
Bombshell Announcements from Experior's CEO:
One of the most anticipated moments of the convention came when Experior's CEO, Jamie Prickett, took the stage to deliver a bombshell announcement. In a move that has sent Experior Financial Group Inc. agents abuzz, Prickett reaffirmed the fact that Experior was built on the premise that it would be the ultimate company for agents. Regardless of whether an agent wishes to build an agency or simply focus on personal production, they have the same opportunity to earn the highest compensation level within Experior. He went on to say Experior is the only MGA/IMO that offers agents the opportunity to build their business using a model suited to their goals, strengths, and abilities, while offering the support and resources they require to succeed.
CEO Jamie Prickett also announced Experior's newest charitable endeavor, which includes a $1 million pledge to the
Sunshine Foundation
. Since 1987, Sunshine has been changing the lives of kids and youth in Canada living with physical disabilities. Both organizations share a vision of empowering and transforming the lives of individuals, especially those who need it the most. Experior and its agents are thrilled to have this opportunity to make a meaningful impact on the lives of Canadian youth and their families.
As well, Prickett revealed the expansion of their partnership with Debt Medic into the USA market. This strategic expansion not only reflects Experior's continuous growth but also highlights the company's dedication to helping individuals manage their financial goals across borders.
Reflecting on the event, Jamie Prickett commented, "The 'X Mark's the Spot' Convention has been an incredible journey of learning, growth, and inspiration. Seeing the synergy among industry leaders, partners, and attendees has truly reaffirmed the power of collaboration in driving positive change within the company and financial services industry."
He added, "Muggsy Bogues' words, The Painchaud Family's stunning performance, and the exciting bombshell announcements have collectively shaped an event that will leave a lasting impact on our company and attendees."
As the curtain closes on the 'X Mark's the Spot' Convention, attendees depart with a renewed sense of purpose, armed with actionable strategies and insights to propel their careers and businesses to new heights. The convention's success not only demonstrates Experior Financial Group Inc.'s commitment to excellence but also highlights its pivotal role in shaping the future of the financial services industry.
About Experior Financial Group Inc.:
Experior Financial Group Inc. is a renowned
Independent Marketing Organization
empowering clients with insurance, investments, and debt management through experienced, licensed financial agents.
Joanna St Jacques
Experior Financial Group Inc.
+1 888-909-0696
info@experiorheadoffice.ca
Visit us on social media:
Facebook
Twitter
LinkedIn
Instagram