Beverly Hills Cosmetic Dentist on Whether Porcelain Veneers Can Make Teeth Stronger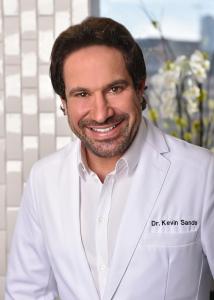 Dr. Kevin Sands, a Beverly Hills cosmetic dentist, explains the ways in which porcelain veneers can help maintain oral function as well as beautify the smile.
A good cosmetic dentist is able to guide patients through the porcelain veneers process and fully personalize their results for a natural-looking and comfortable fit."
— Kevin Sands, DDS
BEVERLY HILLS, CA, USA, August 8, 2023/
EINPresswire.com
/ -- According to Beverly Hills cosmetic dentist
Kevin Sands, DDS
, high-quality veneers can dramatically enhance the appearance of the smile. Custom-designed to cover the front surface of a tooth, these restorations can create a uniform, natural-looking smile aesthetic by altering the teeth's color, shape, and size. There are many different
types of dental veneers
, says Dr. Sands, including zirconia, composite, and porcelain – the latter of which is generally considered the sturdiest and most aesthetically pleasing material for veneers. "Porcelain veneers can address a variety of aesthetic dental imperfections, such as discoloration, minor misalignments, gaps, chips, or worn enamel," Dr. Sands continues.
While veneers are typically thought of as a solely cosmetic treatment, their potential benefits are not limited to aesthetic improvement, says Dr. Sands; rather, they can maintain and even strengthen the teeth in a few distinct ways. For instance, durable porcelain can protect vulnerable teeth from harmful bacteria, limiting the opportunity for plaque buildup. "Masking cracks and chips with porcelain can preserve the integrity of the enamel," explains Dr. Sands. Additionally, by improving alignment and shape, veneers can reduce the presence of gaps and uneven teeth. "This can encourage a straighter and more consistent bite," notes Dr. Sands, adding that such an enhancement in alignment can also prevent tooth fractures.
With this in mind, Dr. Sands urges patients to remember that not all porcelain veneers are made equally. As such, not all veneers will be able to transform a patient's smile in the aesthetic and functional ways they desire. For this reason, he encourages patients to search for a practice that employs the most advanced materials and tools for building these restorations. "A good cosmetic dentist is able to guide patients through the
porcelain veneers process
and fully personalize their results for a natural-looking and comfortable fit," Dr. Sands concludes.
About Kevin B. Sands, DDS
Dr. Kevin Sands, a graduate of USC School of Dentistry and the Las Vegas Institute for Advanced Dental Studies, has gained global recognition for his work in general, restorative, and cosmetic dentistry. Due to his extensive list of A-list celebrity clients, Dr. Sands is often called the "Dentist to the Stars." His credentials include memberships with organizations such as the American Dental Association (ADA) and the American Academy of Cosmetic Dentistry (AACD). Operating from two offices in Beverly Hills and Dubai, Dr. Sands and his team offer treatments such as hand-crafted porcelain veneers, Zoom!
®
teeth whitening, full mouth restorations, and more. Dr. Sands is available for interview upon request.
To learn more about Dr. Sands, please visit beverlyhillscosmeticdentist.com, porcelainveneersinbeverlyhills.com, facebook.com/cosmeticdentistbeverlyhills, and @drkevinsands on Instagram.
To view the original source of the release, click here:
https://www.porcelainveneersinbeverlyhills.com/practice-news/can-porcelain-veneers-make-your-teeth-stronger-beverly-hills-cosmetic-dentist-weighs-in/
###
Kevin B. Sands, DDS
414 North Camden Drive, Suite #940
Beverly Hills, CA 90210
(310) 273-0111
Rosemont Media
www.rosemontmedia.com
Katie Nagel
(858) 200-0044
email us here