DuoPharma Biotech to Scale iBreastExam across Malaysia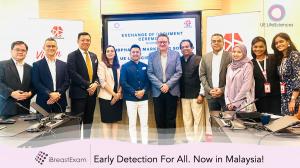 Duopharma Biotech Berhad Partners with UE LifeSciences
iBreastExam Breast Cancer Early Detection
DuoPharma Biotech to Scale iBreastExam across Malaysia
UE LifeSciences DuoPharma Collaboration To Make Early Detection Easy & Accessible, Help Save Many Lives
Partnering with UE LifeSciences to distribute the iBreastExam device among frontline healthcare providers in the community, we hope to increase access to preliminary screening"
— Leonard Ariff Abdul Shatar, Group MD, Duopharma Biotech
KUALA LUMPUR, MALAYSIA, July 20, 2023/
EINPresswire.com
/ -- Malaysia's leading pharmaceutical company,
Duopharma Biotech
Berhad ("Duopharma Biotech") through its wholly-owned subsidiary, Duopharma Marketing Sdn Bhd ("Duopharma Marketing"), has signed a Distribution Agreement to scale
iBreastExam
in Malaysia with U.S. based women's health innovator company,
UE LifeSciences
Inc.'s Malaysian wholly-owned subsidiary UE LifeSciences Sdn Bhd ("UE LifeSciences"). The collaboration is set to launch and scale the iBreastExam across Malaysia, a breakthrough innovation for radiation-free, clinically effective and accessible breast cancer early detection for women of all ages and demographics.
According to Malaysia's National Cancer Registry 2019, Late-stage cancer presentation is Malaysia's biggest challenge with the NCR reported alarming trends. In 2012-2016 the percentage diagnosed at late stage (Stage III, IV) increased to nearly 48%. This highlights the importance of early detection of breast cancer in increasing the chance of successful treatment and reducing cancer-related mortality. The incidence for breast cancer is highest in age groups 35 – 75 years. Study on Cancer Survival 2018, the 5-year relative survival rate for breast cancer among Malaysian women was nearly 60% for stage III and 23% for stage IV.
Under the distribution partnership, UE LifeSciences and Duopharma Biotech plan to collaborate with private and governmental healthcare sectors by making iBreastExam available at primary-care clinics across Malaysia to bridge the lack of access to early detection. The collaboration will empower frontline healthcare providers with the mobile tools to drive preliminary screening in the community, where women live and work. The device is designed for use by frontline health workers, nurses, primary care providers and NGOs operating in the women's health areas. It is quick, user friendly and requires minimal training.
"As a homegrown healthcare company with a vision of 'Providing Smarter Solutions for a Healthier Life', we are committed to optimizing our capabilities to improve healthcare outcomes among Malaysians. There are still too many in the community who do not go for regular screenings and instead only see a doctor when there is a serious complaint, which can be too late for effective treatment. Thus, by Duopharma Marketing partnering with UE LifeSciences to distribute their mobile breast screening device among frontline healthcare providers in the community, we hope to increase access to preliminary screening and ultimately encourage Malaysian women to schedule full regular screenings, to improve lives in the longer term," said Leonard Ariff Abdul Shatar, Group Managing Director, Duopharma Biotech Berhad.
Breast lumps are stiffer than normal breast tissue. iBreastExam incorporates Dynamic Co-Planar Capacitive (DCPC) Sensor Technology that measures the differences in tissue elasticity, in real-time, at the point of care and without requiring manual interpretation. It helps in identifying and triaging for clinically relevant breast lumps in healthy, asymptomatic women. Being hand-held, non-invasive, ultra-portable and radiation-free, it helps to bring early detection to the women - in the community. iBreastExam also facilitates seamless patient follow-up by securely storing data on the cloud. iBreastExam automates and standardizes the clinical breast exams, eliminating variabilities in the examination process and the training challenges - it serves as a practical alternative for safe and effective triaging for breast lumps.
Clinically validated through independent studies involving over 25,000 women, iBreastExam is a novel technology that promises to democratize women's health. iBreastExam has undergone over 8 independent clinical studies to validate the iBreastExam's accuracy, effectiveness and acceptability in women. These independent studies were conducted by prestigious cancer research centers such as the Malabar Cancer Center (India), The Memorial Sloan Kettering Cancer Center (USA) and others. The results have been published in peer-reviewed high-impact international journals such as The Lancet Global Health, The American Society of Breast Surgeons, San Antonio Breast Symposium, The Journal of Clinical Oncology, etc. The device has already obtained regulatory approvals in over 12 countries including US FDA, Europe's CE Mark, Malaysia's MDA, etc.
ABOUT DUOPHARMA BIOTECH BERHAD
Duopharma Biotech Group ("Duopharma Biotech") began with the establishment of Duopharma (M) Sendirian Berhad in 1978. Duopharma Biotech was incorporated in 2000 and is today one of Malaysia's leading pharmaceutical companies listed on the Main Market of Bursa Malaysia Berhad. Duopharma Biotech has core competencies in the pharmaceutical industry inclusive of Manufacturing, Research & Development and Commercialisation & Marketing of over 300 generic drugs such as Crystorvas, Prelica and Omesec as well as Consumer Healthcare ("CHC") products including CHAMPS
®
, FLAVETTES
®
, PROVITON
®
and Uphamol, which are well-recognised and accepted by consumers in Malaysia, regionally and globally. The Company has also diversified into the biosimilars space with technology and commercialisation collaborations with credible and strong international partners. ERYSAA
®
, Basalog One
®
, and Zuhera are a few commercialised biosimilar brands.
Headquartered in Kuala Lumpur, Malaysia, Duopharma Biotech owns and operates three manufacturing plants in Klang, Bangi and Glenmarie, Selangor. Duopharma Biotech also has subsidiary companies in Indonesia, the Philippines and Singapore. A subsidiary of Duopharma Biotech Berhad has a representative office in Jakarta, Indonesia.
Website:
www.duopharmabiotech.com
Corporate Communication Department of Duopharma Biotech Berhad
Name : Pn Nor Soleha Ab Shukor
Telephone : +6019 289 1008
Email : soleha@duopharmabiotech.com
ABOUT UE LIFESCIENCES INC
UE LifeSciences is a fast-growing, award-winning women's health innovator. It is a leader in developing equitable and accessible early detection tools for women's cancers. UE LifeSciences' hallmark innovation, iBreastExam is enabling breast cancer early detection for over 2 million women across 10 countries. The company is soon to launch CervAIcal, a hand-held mobile colposcope to screen for cervical abnormalities. The product has already obtained CDSCO approval in India and the European CE Mark. The company has entered distribution partnerships with Siemens Healthineers (USA), HLL Lifecare (India) and others. UE Lifesciences is the winner of several global accolades including the Global Women's HealthTech award from The World Bank. With headquarters in the USA and subsidiaries in India, Malaysia, Colombia and Chile, UE LifeSciences is a proud Member of the American Cancer Society (ACS) and the Union for International Cancer Control (UICC).
Website:
https://www.uelifesciences.com/
For UE LifeSciences Sdn Bhd
Ms Shabithah Bashah
Phone: +603-62063079
Email: shabithah.bashah@uelifesciences.com
Media Relations
UE LifeSciences Inc.
+60 3-6206 3079
email us here
Visit us on social media:
Facebook
Twitter
LinkedIn
Instagram
YouTube
iBreastExam - Health Innovation Designed for Access and Equity