Experior Financial Group Inc. Welcomes Shawn Redford as Chief Business Development Officer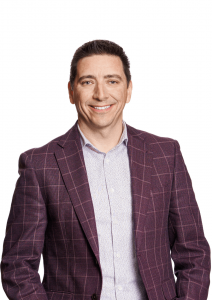 Experior Financial Group Welcomes Shawn Redford as New Chief Business Development Officer, Expanding Leadership Team
GUELPH, ONTARIO, CANADA, June 9, 2023/
EINPresswire.com
/ -- Experior Financial Group Inc., a leading provider of insurance solutions, is pleased to announce the appointment of Shawn Redford as the company's new Chief Business Development Officer. Shawn will assume the role effective June 12, 2023.
As the Chief Business Development Officer, Shawn will be responsible for driving strategic growth initiatives, identifying and capitalizing on new business opportunities, expanding our sales and product training initiatives and increasing the company's market presence. With a proven track record of success in the investment and insurance industry, Shawn brings a wealth of experience and expertise to this pivotal leadership position.
"We are thrilled to welcome Shawn to the Experior team as our Chief Business Development Officer," said Lee-Ann Prickett, President of Experior.
Shawn Redford is an Honours Commerce graduate of McMaster University, where he majored in Finance and minored in Economics before starting his
career
with one of Canada's largest banking institutions.
Shawn brings over 25 years of financial services experience, more than half of which has been in business development roles. This has included many facets of the industry ranging from personal and commercial banking to investment and insurance planning. He has a strong background in building strategic partnerships, driving revenue growth, and has cultivated incredible relationships across the country. Shawn's innovative mindset and keen understanding of market trends will be instrumental in shaping the future of Experior.
"I am honoured to join the Experior team as the Chief Business Development Officer," said Redford. He added, "When I met Jamie and Lee-Ann almost ten years ago, I'll admit, even I thought the industry was stacked against them, but I never doubted for a minute their passion or conviction. It's contagious, and their success is the proof! I look forward to collaborating with the talented professionals here to expand our business, explore new opportunities, and deliver
innovative insurance solutions
that meet the evolving needs of our agents and their customers."
Jamie Prickett, CEO of Experior, stated, "Red [Redford] just gets it!". "He knows his stuff, he loves to share ideas, and he's been an advisor. He knows what our brokers are going through and how to help them succeed." He finished by saying, "With his impressive background and deep industry knowledge, we're confident that he'll play a vital role in our continued growth and success both in Canada and the United States."
Please join us in extending a warm welcome to Shawn Redford as the Chief Business Development Officer at Experior Financial Group Inc. We are excited to embark on this journey together and confident that his contributions will accelerate our mission to build financial foundations for families to empower them today and leave a legacy for tomorrow.
About Experior Financial Group Inc.
Experior is one of Canada's fastest-growing Managing General Agencies (MGAs) and the only one to bring its unique model south of the border, having expanded into the United States in 2021. Established in 2014, the team of more than 3,000 well-trained, state and provincially licensed associates are available across Canada and the USA to assist clients with their insurance and investment needs.
They are proud to have combined the best of the captive carriers, brokerage industry and network marketing organizations to create a genuinely unique Tri-Brid MGA that works for both the consumer and its agents.
With a commitment to delivering exceptional customer service, innovative products, and a deep understanding of the insurance industry, Experior has established itself as a trusted name in the market. The dedicated team of professionals strives to provide tailored insurance solutions that protect what matters most to their clients.
Experior Financial Group is headquartered in Guelph, Ontario, Canada and Cheektowaga, New York, USA. Experior representatives receive a high level of training, ongoing support and mentoring from their hands-on Executive Leaders, ensuring that their clients receive superior solutions and experiences.
Experior Financial Group is also a proud member of
CAILBA
.
Joanna St Jacques
Experior Financial Group Inc.
+1 888-909-0696
info@experiorheadoffice.ca
Visit us on social media:
Facebook
Twitter
LinkedIn
Instagram