Taste the sweeter side of Quito traditional desserts and irresistible treats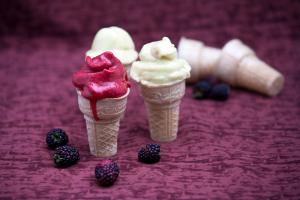 Paila ice cream is a creamy natural jelly with an intense fruit flavor that is prepared in a bronze paila that rotates over salted ice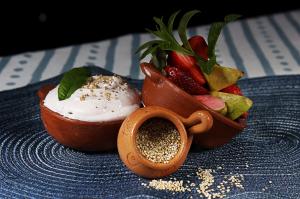 The espumilla, a combination of egg whites, fruit pulp and sugar, is another of the favorite desserts for children and adults
The Capital of the Center of the World offers many places where you can taste the typical Quito desserts and sweets
QUITO, ECUADOR, May 25, 2023/
EINPresswire.com
/ --
Quito
stands out for its culinary offering whose exquisite flavors are reflected in emblematic dishes such as mote con chicharrón, morocho empanadas, fritada or dried goat. And, to fully enjoy the local gastronomy, one must not forget an important pillar of Quito cuisine: desserts and sweets.
For this reason, during a visit to the Quito you must make a mandatory stop in some places that will allow you to taste some treats such as pristiños or fig candy, two of the most traditional sweets of the capital of the center of the world.
Another traditional dessert is paila ice cream, a creamy natural jelly with an intense fruit flavor that is prepared in a bronze paila that rotates over salted ice. Ice creams can be savored in places like the 'Dulce Jesús mío' ice cream parlor, located in La Ronda, where tourists can find more than a thousand unique and exotic flavors such as the traditional colada morada, 'caca de perro' (corn with sweet), michelada (beer with salt, tabasco, pepper and lemon), coffee with humita (corn dough with cheese) and more; the 'Paila de Pomasqui Ice Cream', located in the Middle of the World Tourist Corridor, where more than 80 varieties are offered: 11 traditional ones such as blackberry and soursop; 10 seasonal as borojó and arazá; and more than 60 gourmet dishes that are made to order such as chicha de jora, parsley, champagne with roses, among other unusual flavors; or, the 'San Agustín Ice Cream Parlor', the oldest restaurant in the Historic Center, which has been delighting with traditional dishes for 165 years and which allows you to live a dramatization with the character of Granny Encarnación, who returns from purgatory to tell the legends of Quito .
The espumilla, a combination of egg whites, fruit pulp and sugar, is another of the favorite desserts for children and adults. The traditional recipe for this delicacy was made with guava, but today the varieties are unlimited and include flavors such as banana, strawberry, orange, passion fruit, soursop and more. In the Historic Center there are several establishments to taste this delight. In addition, on weekends they are sold in markets and squares in urban and rural areas.
The treats, a round white confection made with sugar and peanuts, sweeten the palate of all visitors. Las 'Colaciones de la Cruz Verde', near the Plaza de San Francisco, is one of the businesses with the longest tradition of this star product of Quito cuisine that is made by hand and with an ancestral recipe.
Quesadillas, a pastry made with eggs, flour, water, sugar and the special touch of achira starch, have become another of the favorite desserts due to their delicate flavor and texture. In the local 'Quesadillas de San Juan', located in front of the Contemporary Art Center, they maintain the original recipe for this delicacy, respecting its cooking time and preparation in a brick oven.
The monasteries and cloisters of Quito also have ancestral recipes where the nuns prepare delicacies such as pure honey, cookies, empanadas, consecrated wine and other natural products for personal hygiene or to raise the body's defenses.
Traveling to Quito, walking through its streets, learning about its history, admiring its biodiversity... is always highly recommended. Live the experience with a sweet in your hand!
Marisol Hernandez
Grupo Euroamerica
+1 305-300-2249
email us here
Visit us on social media:
Facebook
Twitter
Instagram
YouTube