Tanaka Farms in Irvine has a plethora of farm-to-table cookouts on the calendar throughout the summer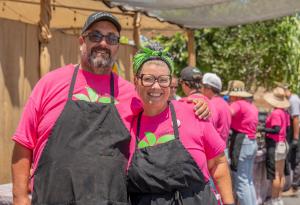 Chef Jim Gibbons and Chef Joni Marie Newman of Tanaka Farms
Farm-to Table Cookout Tour plate with fire-grilled Smokehouse Maple Chicken, Roasted Corn on the Cobb, Signature Kale and Strawberry Salad, grilled veggies, and fresh strawberries for dessert..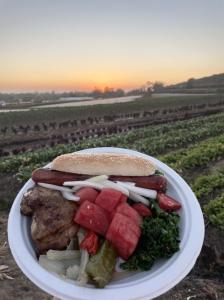 Enjoy a summertime cookout while overlooking Tanaka Farms at sunset.
Diners can enjoy casual farm-fresh cuisine on a real working farm every weekend this summer.
You simply can't get fresher than eating food prepared that was harvested only hundreds of feet away!"
— Chef Joni Marie Newman
IRVINE, CALIFORNIA, USA, May 18, 2023/
EINPresswire.com
/ -- Every Friday and Saturday this summer, starting June 10 and running through August 26, the culinary team at
Tanaka Farms
, headed up by Chef Jim Gibbons, will be serving up farm-fresh food for diners to enjoy al fresco, on a real working farm, in the heart of Orange County.
Events include
Farm-to-Table Cookout Tours
, Sunset Cookout Tours, and Summertime Cookouts, each with its own theme and menu:
-Farm-to-Table Cookout Tours: A guided walking tour around Tanaka Farms including three different U-Pick seasonal vegetables. Then guests will head over to the shaded cookout area where the Tanaka culinary team will prepare and serve a meal that will include: Fire-Grilled Smokehouse Maple Chicken (or Fire-Grilled Saucy BBQ Tofu), grilled vegetables, our signature Kale and Strawberry Salad, and fresh fruit for dessert.
-Sunset Farm-to-Table Cookouts: Enjoy a gorgeous sunset wagon tour around the farm, making stops to pick produce right in the fields where it grows! Then visit with our Barnyard friends, and enjoy music, while dining al fresco on a farm-to-table cookout featuring beef or chicken, seasonal grilled vegetables, farm fresh salads, and seasonal fruit for dessert.
-Summertime Cookouts: Guests will settle in as the sun goes down for a good old-fashioned cookout at Tanaka Farm. Chef Jim and his culinary team will be grilling and making backyard barbecue favorites with a rotating seasonal summertime menu that will include farm-fresh salads, veggies, fruit, and protein.
Please note: The team at Tanaka Farms always offers vegan and vegetarian options for those who opt for plant-based meals.
The Details:
What: Summertime Farm-to-Table Cookouts and Tours at Tanaka Farms
Where: Tanaka Farms is located at 5380 3/4 University Drive, Irvine, California 92612
When: Every Friday and Saturday starting June 10th through August 26th, 2023
Cost: Ticket prices range from $29 to $59 depending on age and event. Military servicemembers are always free.
Reservations are required. Guests can
make a reservation
by visiting the Tanaka Farms website.
Tanaka Farms is a family-owned and operated farm in the heart of Irvine. Established in 1940, the Tanaka Family strives to provide the surrounding community with fresh, responsibly farmed produce. Educating, entertaining, and feeding families all year is the Tanaka Farms motto.
Joni Newman
Tanaka Farms
+1 949-653-2100
email us here
Visit us on social media:
Facebook
Instagram
YouTube
TikTok
Tanaka Farms, a Family Owned and Operated Farm in Irvine, California