'MRS. GILLIGAN' DREAMA DENVER AT HAPPY TRAILS FILM AND TELEVISION FESTIVAL IN SALEM, VA MAY 19TH-21ST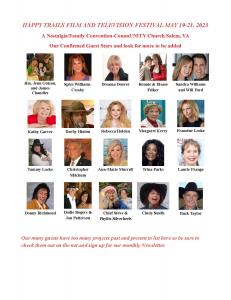 Award-winning Author, Dreama Denver 'Mrs. Gilligan' at Happy Trails Film and Television Festival
Dreama Denver and Bob Denver
Dreama Denver and Dawn Wells
Author Dreama Denver
SALEM, VA, UNITED STATES, May 17, 2023/
EINPresswire.com
/ -- Award-winning author and wife of late TV icon, Bob Denver,
Dreama Denver
'Mrs. Gilligan' will be one of the celebrities with ties to the golden age of TV appearing as part of the
Happy Trails Film and Television Festival
from May 19th to May 21st at the CommUNITY Church in Church in Salem, VA (1923 East Main St. Salem, VA).
If you grew up watching Gilligan's Island, Family Affair, Daniel Boone, The Monroes, Peter Pan, The Lone Ranger, Roy Rogers and Dale Evans, and other classic TV and movies, this is the perfect place for you to meet cast members from those classic shows.
Dreama Denver is one of the stars who will be at this nostalgia-fest signing books, doing audience Q&A's and sharing details about her life with husband, Bob Denver of Gilligan's Island and Dobie Gillis.
Other special guests at the Happy Trails Film and Television Festival this year include:
-Margaret Kerry, remembered for her role as the beloved animated character Tinkerbell from Peter Pan
-Kathy Garver, most remembered for having portrayed the teenage orphan, Catherine "Cissy" Davis, on the popular 1960s CBS sitcom, Family Affair. Before that, she was cast by Cecil B. DeMille in the film The Ten Commandments and she also provided the voice of Firestar in the animated television series Spider-Man and His Amazing Friends.
-Darby Hinton, is remembered for his role as Israeli Boone in Daniel Boone and other films such as Goodbye, Franklin High, Malibu Express and Hinton played Ian Griffith on Days of Our Lives.
All stars and fans who come to the Happy Trails Nostalgia/Family Convention are one big happy family, and all you have to do to become part of that family is make plans to attend the Happy Trails Film and Television Festival.
About Dreama Denver:
Dreama Denver now heads The Denver Foundation, helping families of other special needs children, and supporting veterans' causes. She has kept in touch with Bob's many loyal fans through
www.bobdenver.com
and oversees "Little Buddy Radio", an FM and online non-profit radio station owned and operated by the foundation heard around the globe on the "Tune-In" app and Amazon Alexa devices worldwide. Along with 'Zen and Now', a delightful tale of the power of an animal's love and doggie adventures of Dreama's beautiful Husky-mix that was recognized by the 2023 Los Angeles Book Festival, Dreama is also the multiple award-winning children's book author of "Four Bears In A Box" written for their autistic son Colin and her acclaimed memoir, GILLIGAN'S DREAMS.
Shaili Priya
Allen Media Strategies
+1 703-589-8960
shaili@allenmediastrategies.com
Visit us on social media:
Facebook
Twitter
LinkedIn