Generation180 Announces National Electric Ford F-150 Lightning Sweepstakes to Drive Broad Electric Vehicle Adoption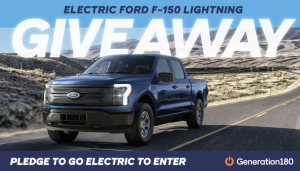 Partnership with REVERB on the Dave Matthews Band Summer Tour will launch the National GoingElectric Pledge campaign at 42 concerts in 24 states nationwide
Behavioral research shows that when people commit to a pledge, they are more likely to follow through. With the incentive of a Ford F-150, we hope to attract more people to learn about EVs."
— Stuart Gardner, Electrify Your Life Program Director
WASHINGTON, DC, UNITED STATES, May 16, 2023/
EINPresswire.com
/ -- To incentivize nationwide electric vehicle interest, Generation180 is announcing its
National Going Electric Pledge Sweepstakes
to win an electric Ford F-150 Lightning. The Pledge campaign educates Americans about the benefits of electric vehicle (EV) driving and encourages individuals across the country to 'say yes' to making their next car, truck, or SUV electric–whether new or used.
"We're launching the Pledge sweepstakes to dramatically increase purchase intent and accelerate widespread adoption of electric vehicles," said Stuart Gardner,
Electrify Your Life
Program Director at Generation180, a national nonprofit focused on inspiring and equipping individuals to take action on clean energy. "Behavioral research shows that when people commit to a pledge, they are more likely to follow through. With the incentive of winning a Ford F-150 Lightning, we hope to attract more people to the campaign to learn about EV driving and increase pledge commitments," said Gardner.
While over 15 million new vehicles were sold last year, less than 6% were electric (1,2). There is general awareness of electric vehicles, but purchase consideration and intent to buy remains a challenge. In addition to launching the Pledge Sweepstakes to address that barrier, Generation180 is also working to transform current EV owners into advocates and overcome rejection barriers to make EVs more accessible nationwide.
"We want all Americans to know 'your energy matters' when it comes to switching from fossil fuels to clean, electric power. Going electric means using better technology that can make life at home better, make driving more enjoyable, and save you money over the long term, while also cutting out climate-harming, carbon emissions," said Wendy Philleo, Executive Director of Generation180.
Generation180 is partnering with Reverb to help concertgoers sign the Pledge at the Dave Matthews Band Summer Tour and has engaged the following promotional partners to help share the Pledge broadly: EVHybridNoire, GreenLatinos, Veloz, Virginia Clean Cities, and Drive Electric USA, a cohort of the Clean Cities Coalitions.
The Pledge is a signature component of Generation180's new national Electrify Your Life campaign, which equips individuals to take high-impact actions on clean energy in their homes and communities. The campaign will educate Americans about the many cost-savings benefits in the new clean energy law (the Inflation Reduction Act), including rebates and tax credits for individuals and communities to switch to solar, heat pumps, EVs, and other clean energy technologies.
Supporting EV stats:
- Transportation is the largest source of climate-harming emissions. Switching from gas to an EV can lower emissions by over 70% (3).
- 36% of Americans are considering buying or leasing an EV for their next vehicle (4) and 44% have seen an EV in their neighborhood in the past month, according to a Consumer Reports survey (5).
- New federal tax credit guidance and clean energy law provides thousands of dollars in tax rebates for new and used EVs. Roughly $5 billion is committed to the development of a national EV charging network (in all 50 U.S. states) to provide increased charging access (6).
- Since 2021, EV sales have tripled and the number of publicly available charging ports has grown by over 40 percent (7).
For more information about the National Going Electric Pledge Campaign, please visit
goingelectricpledge.org
.
1.
https://www.coxautoinc.com/market-insights/in-a-down-market-ev-sales-soar-to-new-record/
2.
https://www.axios.com/2023/04/16/biden-electric-vehicle-politics
3.
https://www.transportation.gov/priorities/climate-and-sustainability/climate-action
4.
https://rmi.org/reality-check-more-evs-can-mean-fewer-emissions/
5.
https://www.kbb.com/car-news/survey-36-of-americans-may-buy-an-ev/
6.
https://www.consumerreports.org/cars/hybrids-evs/interest-in-electric-vehicles-and-low-carbon-fuels-survey-a8457332578/
7.
https://highways.dot.gov/newsroom/president-biden-usdot-and-usdoe-announce-5-billion-over-five-years-national-ev-charging
###
About Generation180: Generation180 is a national nonprofit working to inspire and equip people to take action on clean energy in their homes, schools, and communities. Instead of the doom and gloom of a warming planet, Generation180 is focused on the unparalleled opportunity for a cleaner, healthier, and more equitable clean energy future.
Kay Campbell
Generation180
+1 434-987-2572
email us here
Visit us on social media:
Facebook
Twitter