ELEMENTAL LED WINS "NEVADA GRAD EMPLOYER OF THE YEAR" AWARD FROM THE UNIVERSITY OF NEVADA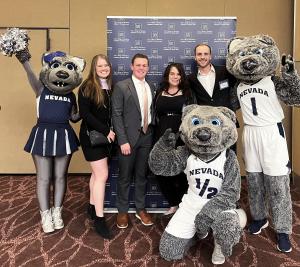 Elemental LED honored for its commitment to the students Northern Nevada
We are proud to partner with great companies like Elemental LED that work very hard to keep top talent and great graduates from UNR in Northern Nevada."
— Jim McClenahan, Executive Director of Outreach, UNR College of Business
RENO, NEVADA, USA, May 4, 2023/EINPresswire.com/ -- Elemental LED Inc., a leading U.S. manufacturer of linear LED lighting and related products, has won the 2023 Nevada Grad Employer of the Year award from University of Nevada (UNR) College of Business. The award recognizes companies that invest in the university community to create opportunities for students and graduates.
"We are proud to partner with great companies like Elemental LED that work very hard to keep top talent and great graduates from UNR in Northern Nevada," said Jim McClenahan, Executive Director of Outreach and Engagement for the UNR College of Business. "Their efforts to create a positive culture and a growth work environment make a difference in the lives of our students."
Since moving to Reno in 2017 Elemental LED has focused on developing local talent, including hiring UNR students as interns and as full-time employees. UNR graduates work in most Company departments including Engineering, Sales, Marketing, Production, Quality Control, Human Resources, and more. The Company is active with the University of Nevada's College of Business and participates in its career fairs, interview coaching, and resume review workshops. Elemental LED also provides opportunities throughout the year for students to shadow executives and tour its corporate office and factory.
"We are honored to receive this award, which speaks to the value we place on education, our interest in hiring top talent, and our continued prioritization of our community," said Sarah Sommers, Elemental LED's Vice President of Human Resources & Training. "Supporting students is a top priority for us and our future!"
About Elemental LED:
Elemental LED is a technology company that engineers, manufactures, and sells linear lighting solutions through the Lucetta and Diode LED brands. Based in Reno, Nevada, the company supports lighting innovation around the globe. U.S.-based operations include product engineering, manufacturing, sales, customer service and support. The company holds patents in diverse fields including optics, LED light engines, electrical circuitry, power, digital control systems, and related components.
Elemental LED
Elemental LED inc.
email us here
Visit us on social media:
Twitter
LinkedIn