Georgia Elite Middle School All-Americans Triumph at 2022 Army Bowl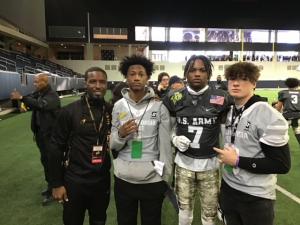 Army All American Jayden Davis
Team Georgia Elite
Army Bowl Rich Mcguinness, Derrick Tatum, Alex Ward Jacob Godree
Georgia Elite Middle School All-Americans Triumph at 2022 Army Bowl
Georgia Elite Middle School All-Americans Triumph at 2022 Army Bowl"
— National College Evaluation Camp NCEC
ATLANTA, GA, USA , January 11, 2023 /
EINPresswire.com
/ -- The 2022
Army Bowl
was a success for Team Georgia Elite Middle School All-Americans.
Their 6th, 7th, and 8th grade
All-American
team traveled to Dallas. The team was put together by Derrick Tatum and his team, Tatum is the President of Army Bowl Georgia, and AAU Director of Football for Georgia, and owner of Elite Talent Football Academy.
The Annual first year for the middle School All-American Tournament.
The Georgia team finished 8th finishing 2nd with a 3-1 record and 7th grade team 3-1, with those 1 loss being very controversial, 6th grade went 2-2.
On this trip students were able to visit Jackson State, Roll Tide Alabama, and finish it off with Southern Methodist University (SMU).
Students and parents got a chance to meet and talk with college coaches and play some competitive football.
These are the Student Below
Top performers, Alex Ward ATH, Jacob Godree LB, Whole front 7 they were dominant.
8th Grade Team Head Coach Brandon Henry
Jace German
Teddy Jarrard
Grey Dunlap
Julian Sease
King Parrom
Joziah Horne
Christian Ema
Izaiah Williams
Lance Harrell
Quentin Jones
Jason Brown
Jajuan Graham
Jacob Godfree
Brodie Archie
Jake Orton
Rocky Reiss
Michael Anderson
Brent Batson
Tyrell Jolly
Zion Paul
Garrett Smith
Carson Bruce
Jaden Wuerth
Drayden Roberts
Brandon Wallace
Jayden Johnson
Ryan Moncreif
Justin Weeks
Carter Messick
Will Schuh
Alex Ward
Zaire Evans
Jude Pinkerton
Dakari Felder
Kevin Northcut
Jaleel Braker
Cameron Clem
Cameron Prescott
Lawrence Williams
Ezra Jordan
7th Grade Team Head Coach Chad Parker
Top Performers Nate Grizzle, Thomas Duncan, Cam Middleton, and the Entire D-Line they were special all weekend.
Pierson Delgala
Zack Parker
Sawyer Ray
KJ
X'Zavier Cannon
Kameron Barnes
Cameron Hurst
Elijah Kilgore
Antonio Williams
Jeremy Barrett
Nate Grizzle
Tylen Simpson
Donavan Maccombe
Sheldon Adams
Aaron Goode
Keelan Wansley
Thomas Duncan
Dylan Schultz
Reese Holland
Mason Vanscoy
Noah Jacobs
Tristan Mazor
Seth Thomas
Camron Middleton
Keenan Collins
Anthony Castereno
KINGSTON BROWN
Dewayne Wade
Royele Dunkentell
Tim Cole
Camilo Ibarra Juarez
Tucker Duncan
Peyton Little
Christian White
6th Grade Team Head Coach Brandon Davis
Top Performers King Hinton, Aarian (AJ) Garrison, Brandon Davis ll and Cooper Mgrath
Brandon Davis II
Aarian Garrison
Christian Bridges
Samuel Williams
Gunner Jarrard
Kelvin Sessions
Greyson Walthall
Kevin Mora
Trucker Jordan
Jordan Valrie
Nathaniel Chukwu
Christopher Hendrix
Jordyn Cannon
Nicholas Franklin
Cooper Mcgrath
Ethan Ward
Malik Adaway
Christien Matthews
Jeremiah Powers
Chase English
Solomon Thomas
Xavion Jackson
Emery Goldbach
Leemondi Culpepper
Mckoi King
Kaelen Johnson
Tyler Robinson
King Hinton
Tyler Howell
Trey Pegues
Jody Dudley
Braxton Jefferson
Markez Curry
All these students performed well and represented Georgia well.
Read more:
https://www.digitaljournal.com/pr/georgia-elite-middle-school-all-americans-triumph-at-2022-army-bowl#ixzz7q7hchxLF
Read more:
https://www.digitaljournal.com/pr/georgia-elite-middle-school-all-americans-triumph-at-2022-army-bowl#ixzz7q7hSYJBd
Read more:
https://www.digitaljournal.com/pr/georgia-elite-middle-school-all-americans-triumph-at-2022-army-bowl#ixzz7q7hDhJev
Read more:
https://www.digitaljournal.com/pr/georgia-elite-middle-school-all-americans-triumph-at-2022-army-bowl#ixzz7q7h7Uo7o
Derrick Tatum
Elite Talent Football
+1 404-220-9633
email us here
Visit us on social media:
Facebook
Twitter
Instagram
YouTube
TikTok
ARMY BOWL TRYOUTS MIDDLE SCHOOL