Pre-Roll Authority STM Canna, Announces Conference Tour Schedule
STM Rocket Box Pre-Roll Machine
STM Atomic Closer Automated Pre-Roll Machine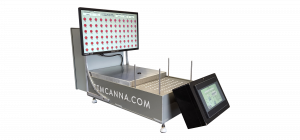 STM LaunchPad Pre-Roll Weighing Machine
STM Canna's Line of Industry-leading Cannabis Production Tools and Turnkey Pre-Roll Systems will be on tour.
SPOKANE, WA, UNITED STATES, May 11, 2022 /EINPresswire.com/ -- STM Canna, the leading provider of commercial pre-roll machines, industrial grinders, and turnkey pre-roll solutions, announced the participation in the following upcoming conferences and expos during the second half of 2022.
On full display will be STM Canna's complete turnkey systems featuring the LaunchPad pre-roll weighing module and Atomic Closer automated pre-roll closing module.
Conferences:
• CannaTech B2B Canna Industry Summit & Expo on June 14-15 in Atlantic City, New Jersey. The Canna Business Expo is the largest Tri-State conference highlighting the latest cultivating and processing technologies for canna and hemp.
• CannaCon Midwest July 22-23 in Detroit Michigan. CannaCon is the largest B2B expo in the Midwest.
• The Cannabis Conference August 23-24 at the Paris Hotel & Casino in Las Vegas. The Cannabis Conference delivers the latest technologies, services, and solutions for cannabis businesses.
• MJBizCon Las Vegas, November 15-18 at the Las Vegas Convention Center. The Marijuana Business Conference is the largest B2B conference in the world.
About STM Canna: Since its establishment in 2017, STM Canna Corp. has remained the cannabis industry's most trusted supplier of commercial modular pre-roll turnkey systems consisting of cannabis grinders, pre-roll machines, the LaunchPad weighing module and bespoke automated pre-roll closing machine, the Atomic Closer. With clients across 41 U.S. States and numerous international markets, STM Canna is a preferred partner for a range of businesses, from small producers to the world's largest, most well-known hemp and marijuana brands. STM Canna redefines industry standards by providing the best automated production solutions available on the market.
All STM Canna equipment is designed, engineered, and manufactured in the U.S.A. with industry-leading quality and exceptional customer service. For more information, visit stmcanna.com.
Erik Blackerby
STM Canna
media@stmcanna.com
Visit us on social media:
Facebook
Twitter
LinkedIn
Other
STM Canna Products and Systems