Instant noodle prices rise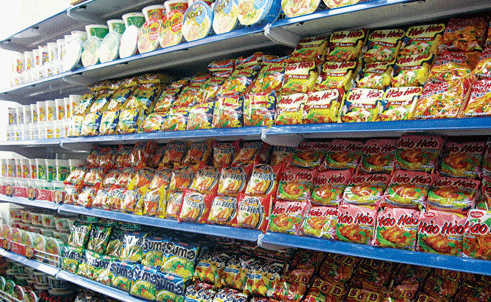 VIETNAM, March 26 - Instant noodles on supermarket shelves. — Photo vietnamnet.vn
HÀ NỘI — Manufacturers have raised the prices of a series of food items due to pressure from the skyrocketing cost of gasoline and input materials.
Rice, sugar, fish sauce, cooking oil, and instant noodle manufacturers have all announced increased prices.
The price of instant noodles has increased by 25 per cent over the same period last year while other items such as cooking oil rose by 23 per cent, sugar 67 per cent, fish sauce 28 per cent, and gasoline 48 per cent.
Kajiwara Junichi, general director of Acecook Việt Nam JSC, said that the company had to increase the price of all products from March 1 due to the high price of input materials and transport costs, adding that no matter how hard businesses tried, they could not keep prices down.
A survey of the World Instant Noodles Association (WINA) showed that Vietnamese people consumed more than 7 billion packages of instant noodles in 2020, just behind China and Indonesia.
The COVID-19 pandemic spurred the need to hoard and consume instant noodles. WINA estimated that the world's demand for instant noodles grew by 14.79 per cent in 2020.
In Việt Nam, their price rose by 29 per cent, nine times higher than average growth in  2015-2019.
The Vietnamese instant noodle market currently has 50 domestic and foreign enterprises, but is dominated by three main players: Acecook, Masan Consumer and Asia Food.
Market share
Entering the Vietnamese market in 1995, Acecook, which makes Hảo Hảo noodles, has become a national brand focusing on the mid-end segment. At its peak, Acecook had nearly 50 per cent market share.
However, in recent years, Acecook's market share has fallen to 35 per cent.
The giant's instant noodle sales reached VNĐ11.53 trillion in 2020, a year-on-year growth of 8.29 per cent, accounting for 32 per cent of total market revenue.
The gross profit margin was 33.6 per cent in 2020. Acecook has a relatively high gross profit margin compared to other enterprises in the same industry.
Last year, Acecook Việt Nam was warned about preservatives in the product in the European market, causing it to struggle.
Consumers and many retailers are sceptical about Acecook's products even though it has coordinated with the Ministry of Industry and Trade to check product quality.
Masan ranks second in the industry. In the last two years, Masan's sales growth rate of instant noodles has always been at the top of the market, averaging 33.19 per cent per year, nine times higher than the whole Vietnamese noodle market.
Masan owns the Winmart retail chain, which integrated with Masan Consumer to lead the instant noodle market with two famous brands, Omachi and Kokomi. The pandemic saw an increase in consumption of instant noodles from 2020, making Masan's revenue rise sharply.
The revenue of Masan Consumer's instant noodles segment reached VNĐ8.8 trillion last year, up 27.8 per cent compared to 2020, an increase of 43.71 per cent compared to before the pandemic.
Although Asia Food is not as aggressive in advertising as Acecook or Masan, it is no less competitive.
The company focuses on the rural market, which accounts for 65 per cent of Việt Nam's population and has a large consumption of instant noodles.
Asia Food with Red Bear noodles has crept up to conquer the market, and its revenue always surpassed Masan in 2016-2019. However, after the pandemic, Masan sped up its sales and left Asia Food behind.
Asia Food's revenue reached VNĐ 5.7 trillion in 2020, up 9 per cent compared to 2019, thanks to the high demand during the pandemic.
Asia Food also focuses on exports, and the company said that it currently holds more than 50 per cent of the market share of instant noodles in Cambodia with the Red Bear brand. However, unlike Việt Nam, Cambodia's instant noodle market is not so large. — VNS