Elemental LED Partners with Point Source Group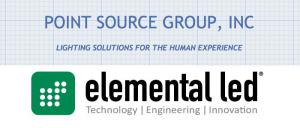 Diode LED Brand Now Represented by Upstate New York Sales Agency
Teaming up with Point Source Group means that Diode LED products are backed by an established, full-service agency."
— April Mitchell, Senior Vice President, Elemental LED
RENO, NEVADA, USA, June 22, 2019 /EINPresswire.com/ -- Elemental LED, a leading U.S. based engineering and technology company that manufactures LED lighting solutions announced today a partnership with Point Source Group to represent the Diode LED brand in upstate New York. Elemental LED provides a wide variety of superior quality linear, task, and accent LED lighting solutions for all types of applications.
Point Source Group is a leading lighting representative based in Rochester, New York. By offering everything from quoting and design assistance to project and order management, they stand out as a true, full-service agency in a demanding area.
"Teaming up with Point Source Group means that Diode LED products are backed by an established, full-service agency," said April Mitchell, Senior Vice President, Marketing & Customer Experience of Elemental LED. "We are proud to have this dedicated team of lighting and lighting controls professionals representing our company."
About Point Source Group:
Point Source Group is a full-service lighting manufacturer's representative, offering design & application assistance, job quotation, project management & order service.
They are a resourceful team backed up by products from the finest lighting manufacturers available to bring complete solutions to ambitious projects.
About Elemental LED:
Elemental LED, founded in 2008, is a leading North American based engineering and technology company with offices in Nevada, California, China and the United Kingdom. We manufacture an extensive high-quality portfolio of lighting, power supplies, and controls. We specialize in superior patented linear, accent, and task LED lighting featuring unparalleled CRI and R values with flawless, and vibrant high-fidelity color rendering. We are proud to be America's largest provider of low voltage linear LED lighting, inspiring lighting professionals with our innovative technology, unmatched quality, and best-in-class customer experience.
J.B. Lowe
Elemental LED Inc.
877.564.5051
email us here