Trade Technologies eröffnet Büro in Stuttgart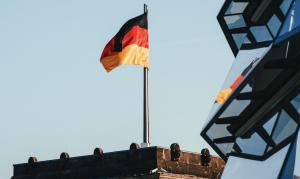 Digitale Technologien und Dienstleistungen verschlanken europäische Exporte
STUTTGART, GERMANY, January 8, 2019 /
EINPresswire.com
/ -- Trade Technologies, der Weltmarktführer in Dokumentenlösungen für den Auβenhandel, eröffnet erste Niederlassung in Deutschland. Das Stuttgarter Büro – die zweite Niederlassung von Trade Technologies in Europa und die dreizehnte weltweit – ist besetzt mit Spezialisten im Bereich Auβenhandelsdokumentation für die Handhabung von Akkreditiven und weiteren komplexen Handelsdokumenten für europäische Exporteure.
Weltweit für mehr als 1500 Exporteure, Spediteure und internationale Banken bietet Trade Technologies patentgeschützte, cloudbasierte Software und ausgelagerte Dienste und Management für Akkreditiv- und Auβenhandelsdokumente. Die TradeSharp-Plattform des Unternehmens ermöglicht die globale, übergangslose Verbindung für den sicheren Austausch von Handelsdaten und -dokumenten. Zusätzlich automatisiert TradeSharp die Erstellung und digitale Übermittlung von originalen Akkreditiv- und Inkassodokumenten an Banken und Käufer weltweit. Die ausgelagerten Handelsdokumentationsdienste von Trade Technologies ermöglichen die Echtzeithandhabung von Akkreditiven und anderen Transaktionen des Auβenhandels. Auch hier bietet TradeSharp Exporteuren globale Transparenz und Kontrolle.
Die Eröffnung des Stuttgarter Büros folgt der Bekanntmachung eines im Oktober geschlossenen Kooperationsabkommens zwischen Trade Technologies und der Deutschen Bank. Das Abkommen ermöglicht europäischen und besonders deutschen Exporteuren den Zugriff auf die firmeneigene Suite von Technologielösungen und ausgelagerten Dienstleistungen für die Vereinfachung, Digitalisierung und Automatisierung der Bearbeitung von Auβenhandelsdokumenten.
"Europa", so Kirk Lundberg, CEO von Trade Technologies, "ist der Standort leistungsfähiger und schnell wachsender Exporteure, und Deutschland ist ein Wachstumsmotor in Europa. Wir erwarten starke Nachfrage nicht nur für unsere ausgelagerten Akkreditivdienste, sondern auch für unsere gesamte TradeSharp-Plattform."
Trade Technologies in Kürze
Gegründet im Jahre 1999, ist Trade Technologies heute der weltweit gröβte Anbieter im Bereich Handelsdokumente und Softwarelösungen. Mit Niederlassungen in Asien, Europa und Nordamerika bietet Trade Technologies führenden Exportfirmen, Spediteuren und Aussenhandelsbanken Lösungen für Handelsdokumente sowie Schulungen und Consulting- Dienste.
Die webbasierte TradeSharp-Plattform und ausgelagerte Dienstleistungen des Unternehmens ermöglichen Kunden die Verschlankung ihrer Prozesse, Minderung von Kosten, Beschleunigung von Zahlungen und Behebung von allgemein bei der Abwicklung von internationalen Akkreditiv-, Inkasso- und Kontokorrentgeschäften auftretenden Diskrepanzen. Mehr als 1500 Exporteure, weltweite Handelsbanken und Spediteure vertrauen den bei Trade Technologies verfügbaren Dienstleistungen. Auf diese Weise werden jährlich etwa 10 Milliarden U.S. Dollar in Auβenhandelstransaktionen abgewickelt. Weltweit präsentiert Trade Technologies Original Akkreditiv- und andere Handelsdokumente bei 72 Prüfstellen bei 24 Banken in 14 Ländern.
2016 — Trade Technologies (TTI) wurde im Geschäftsmagazin Silicon Review als eine der "50 Smartest Firmen des Jahres 2016" gepriesen. 2015 — TTI erhielt vom U.S-Handelsministerium den 'Presidential "E" Star Award for Export Services'; CIO Review Magazine wählte TTI in seiner Jahresliste zu den 20 meistversprechenden Banking-Lösungen. 2012 — Gekürt vom Trade Finance Magazine als "Best Trade Tech Solutions Company." 2011 — Gewinner des 'Presidential "E" Award for Exports' durch das U.S.-Handelsministerium (die höchstmögliche an ein U.S.-Unternehmen verliehene Anerkennung für Exportförderung). 2010 — Patentverleihung für TradeSharp-Softwareplattform und -prozess.
Trade Technologies unterhält Niederlassungen in Atlanta, Austin, Boston, Chicago, Hongkong, Houston,
Istanbul, London, Los Angeles, Mumbai, New York, San Francisco, Singapur und Stuttgart.
Lilio Camere
Trade Technologies Inc.
+1 512-327-9996
email us here
Visit us on social media:
Facebook
LinkedIn
Distribution channels:
Automotive Industry
,
Banking, Finance & Investment Industry
,
Business & Economy
,
Chemical Industry
,
Conferences & Trade Fairs
,
Electronics Industry
,
Energy Industry
,
Shipping, Storage & Logistics
,
Technology
,
World & Regional
...

EIN Presswire does not exercise editorial control over third-party content provided, uploaded, published, or distributed by users of EIN Presswire. We are a distributor, not a publisher, of 3rd party content. Such content may contain the views, opinions, statements, offers, and other material of the respective users, suppliers, participants, or authors.