Money Doctor Neil Gallagher, Financial Planning Guru, helps Sponsor 10th Anniversary Spectacular Senior Follies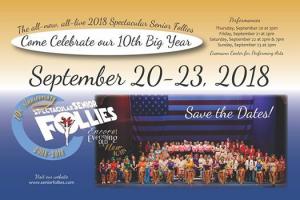 Reminiscent of the legendary Ziegfeld Follies and performed by talented individuals aged 55 and better!
RICHARDSON, TX, UNITED STATES, September 4, 2018 /EINPresswire.com/ -- Money Doctor Neil Gallagher, founder of Gallagher Financial Group Inc., along with the great City of Richardson Cultural Arts Commission, proudly sponsor and celebrate the 10th Anniversary of Spectacular Senior Follies— September 20-23rd.
"Inspired by the turn-of-the-twentieth-century Folies Bergère of Paris, the Spectacular Senior Follies were conceived and mounted by Ned Startzel and Mark Carroll," Gallagher reports. "The Follies is unique in that it only features performers 55 and older and will attempt in 2018 to set the Guinness World Records for this claim to fame."
With a cast of 150 talented men and women, and spectacular live music, the Senior Follies is also famous for their display of many beautiful chorus girls, commonly known as The Showgirls. Together the dedicated team enhances and enriches the arts by producing a broad range of high quality theatrical, artistic productions that entertain, educate, enrich, and promote diversity.
"Our goal is to preserve the traditions and legacy of the American performing arts for future generations, provide community outreach that inspires all age groups, educate by example, and reinforce the vibrancy of seniors by presenting high quality performances with senior entertainers 55 and older," Gallagher concludes.
To participate in this year's event:
Eisemann Center for Performing Arts
2351 Performance Drive
Richardson, TX 75082
972-744-4650 x4

Aurora DeRose
Aurora DeRose
310-396-6090
email us here

EIN Presswire does not exercise editorial control over third-party content provided, uploaded, published, or distributed by users of EIN Presswire. We are a distributor, not a publisher, of 3rd party content. Such content may contain the views, opinions, statements, offers, and other material of the respective users, suppliers, participants, or authors.