The Tenth Anniversary Edition: Sounds from the Circle X is a Star-Studded Compilation of Today's Best New Age Music
Sounds from the Circle X: Celebrating a Decade of Top-Shelf New Age Music
SFTC compilation curator Suzanne Doucet at MIDEM 2018, where she will share the compilation with international labels and distributors.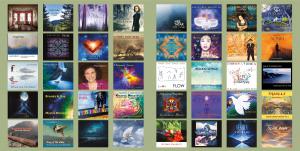 The Sounds from the Circle liner notes share album art, music titles and website URL for each artist.
The annual series offers a wide range of new music from 40+ artists including Peter Kater, SEAY, Steven Halpern, Darlene Koldenhoven, Liquid Mind, and FLOW.
This year's compilation is very ethereal, designed to provide an overall calming and healing effect...In a world of so much chaos and confusion, we are all trying to find inner peace."
— Suzanne Doucet
LOS ANGELES, CA, UNITED STATES, June 29, 2018 /
EINPresswire.com
/ -- Celebrating a decade of curation and collaboration,
New Age Music Circle
founder Suzanne Doucet announces the worldwide release of that online community's annual compilation: Sounds from the Circle X - 2018, available now via participating artists and online playlists. With this tenth volume, approximately 38 hours of music are presented across the series' ten compilations, all curated from members of the New Age Music Circle (newagemusik.ning.com/).
Each volume takes on a unique vibe, says Doucet, with the music often capturing or diffusing what is going on in the world around us. "This year's compilation is very ethereal, designed to provide an overall calming and healing effect," Doucet says, adding, "In a world of so much chaos and confusion we are all trying to find inner peace."
This promotional effort began as a project to unite and promote the New Age music community and has evolved into the leading annual series supporting the ever-growing number of New Age musicians interested in making relaxing, conscious and transformational music. The Sounds of the Circle compilations are always eclectic, showcasing the wide range of inspiration, interpretation and musical vision within the New Age genre from countries across the globe including France, Norway, New Zealand, South Korea, India, Canada, Australia, England, South Africa, Finland, Ireland, Brazil, Germany, the U.S. and more.
This year's sampling reads like a "who's who" of top New Age Musicians: Neil Tatar, Steven Halpern, SEAY, Peter Kater, Merrill Collins, Sangeeta Kaur, Bernward Koch, Anaya Music, FLOW (Fiona Joy Hawkins, Will Ackerman, Lawrence Blatt, Jeff Oster), Mark Dunn, Darlene Koldenhoven, Louis Colaiannia, Nouveau Papillon, Pamela Jamian, Michael Hoppe, Tajalli, Megan Chaskey, Christaal, The Haiku Project, Suzanne Doucet, Rachel LaFond, Kathy Mathes, Mark Freshwater, Cecilie, Paul Adams, David Hoffman, Elizabeth Geyer, Jennifer DeFrayne, Kevin Wood, Byron Metcalf, Jennifer Grais, John Luttrell, Margie Balter, Mitzi Schwarz, Michael Diamond, Sensitive Heart, Brooks & Day, Alan Storeygard, Paradiso & Rasamayi, Natascha Wilczek, Lia Scallon, Peter Calandra, and Liquid Mind. 
Commenting on the Sounds from the Circle, BT Fasmer, founder of NewAgeMusic.Guide and New Age Stars Radio says, "There's so much talent out there! We are lucky to have all these fine artists in our genre."
Today's New Age "umbrella" is vast, often marketed as Relaxation, Meditation, Spa and Yoga music; sub-genres on the compilation include Mystical, Chill, Ambient, Meditative, Vocals, Nature, Trance, World, Solo Piano, Space, Electronic, and Piano w/Instrumental. The compilation's social media platforms (Facebook, Twitter, Pinterest, YouTube, Instagram), informative liner notes, and online playlists provide links and myriad ways to discover new music and follow artists.
While New Age has always had a dedicated fanbase, the genre has seen a recent rise in popularity among Millennials, producers, and DJs; younger generations are finding respite in this quieter alternative music, as noted in the New York Times article "For New Age, the Next Generation" and in a
FACT Magazine
interview with LA producer Matthewdavid stating, "While enduring a period of depression, he found that listening to new age had a therapeutic effect; 'Planetary Unfolding', a grandiose cosmic symphony released by American composer Michael Stearns in 1981, was a particularly significant discovery: 'That record saved my life.'"
The promotional CD is sent to radio programmers for airplay and giveaways; previous volumes of SFTC appeared on New Age Music Odyssey, New Age Stars, New Age Universe, and were chosen as "Album of the Year" by Reviews New Age and New Age World Music. International radio programs such as Radio Despi's La Otra Orilla in Spain and Radio Plenitude in France have dedicated entire programs to playing the collection from start to finish. The compilations also provide programmers an excellent way to fill 3-4 hours of airtime during vacations or the inevitable sick day. Requests for airplay & giveaway copies are welcome via email to bethhilton(at)theBcompany(dot)com;
Sounds from the Circle X is available from the New Age Music Circle and participating artists as a physical MP3 CD, and is also duplicated as online playlists in
Spotify
and iTunes. The CDs are also distributed at the ZMR Awards, INATS, MIDEM, GATE, GRAMMY events, film festivals, celebrity gift bags, and industry events where the music reaches new listeners, filmmakers, music therapists and others.
To participate, artists can become members of the New Age Music Circle; online, the compilation is searchable everywhere using @SoundsFTCircle and #SFTC.
For more information, media review copies, event distribution, and promotional giveaways contact Beth Hilton, The B Company, bethhilton@theBcompany.com, at 310-560-8390.
Links:
Twitter: twitter.com/SoundsFTCircle
Pinterest: t.co/BnPmIeheI9
Facebook: facebook.com/groups/463437327325517/
Spotify: open.spotify.com/user/newagemusic/playlist/7j44ci1JQ32b90ch4UDLlt
Beth Hilton
The B Company
3105608390
email us here
"She Whispers in Tall Grasses"