Peter Kater Currently has TWO Records on the Billboard New Age Chart!
Grammy Winning Artist, Peter Kater
Peter Kater's new album, She, was release March 30, 2018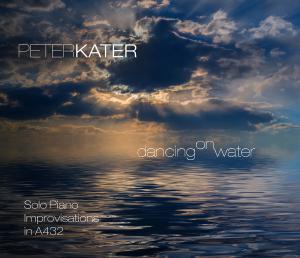 Dancing On Water
Grammy Winning Artist, Peter Kater is Number 1 on Amazon's Hot New Release Chart
Peter Kater's seemingly supernatural ability to play with such depth and emotion has drawn him fans from around the world for nearly four decades."
— BMI MusicWorld Magazine
LOS ANGELES, CA, USA, April 13, 2018 /
EINPresswire.com
/ -- It's been a good year so far for pianist, Peter Kater. After winning his first Grammy in February (his 13th nomination), Peter has also defied the odds by having two top 10 albums on the
Billboard New Age Chart
in the same week.
The new record, She (featuring Peia Luzzi) and a celebration of women, was released on March 30 and already has debuted at number 3 on the Billboard New Age Chart. It was also number 1 on Amazon's Hot New Release Chart.
Dancing with Water (released in 2017), won the Grammy for Best New Age Album in February of this year. The album consists of improvised piano solos performed by Mr. Kater while individuals lay under his piano. The record previously peaked at number 3 on the Billboard chart and the album re-emerged last week at number 8.
In his career, Peter Kater has recorded over 60 albums and has scored the music for over 100 television & film productions including 11 On and Off-Broadway dramatic plays. Having the award show in NY this year also stirred up some nostalgia for Mr. Kater, "It's also cool that the awards were in New York because of the Broadway plays I scored in the 90's." His music has been featured in everything from Olympic games to the Kentucky Derby to Wild World of Sports and many in-between. He has performed all over the world including the United Nations where he received the prestigious United Nations Environment Leadership Award. 
Mr. Kater is a long time supporter of holistic wellness and will be hosting
The Art of Presence
retreat in Whitefish, MT in August. "Being present with yourself and in your life is the single most healing, inspiring and transformative practice you will ever learn." - Peter Kater
Mr. Kater is currently touring in the USA with new dates on the East Coast (USA) to be added soon. To see tour dates and purchase
tickets
, please visit his website at
www.PeterKater.com
.
Amanda Alexandrakis
Music Promotion, Inc.
970.377.0313
email us here