Footnanny Brand Available Now at Bed Bath & Beyond Online Store
Footnanny Collection Available at BedBathBeyond.com.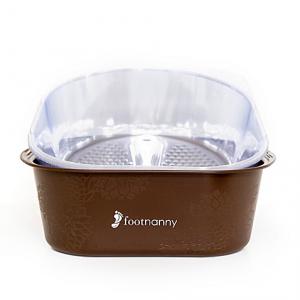 Footnanny Limited Edition Foot Basin includes 20 Disposable Liners.
Shop Oprah's Favorite Things - Footnanny Rose Gift Set – at BedBathBeyond.com
Bed Bath & Beyond and Footnanny share the philosophy of offering an assortment of merchandise at the right value and providing excellent customer service.
— Gloria L. Williams, Footnanny CEO
LOS ANGELES, CA, USA, December 23, 2016 /
EINPresswire.com
/ -- For the first time, the Footnanny collection of foot cream, foot salts, and other signature products are available for purchase at an online retailer – Bed Bath & Beyond at
www.bedbathbeyond.com
. "As the creator of "Made in America" products, I am proud to offer my Footnanny brand online at Bed Bath & Beyond, one of the most recognizable and respected American chain of domestic merchandise retail stores," said
Gloria L. Williams
, CEO of Footnanny.com.
"Bed Bath & Beyond shoppers can purchase my foot cream collection (2 oz. and 8 oz. sizes) of the most popular aromas – unscented, lavender, peppermint, tea tree, and chocolate – foot soaking salts, and the 2016
Oprah's Favorite Things
limited edition Rose Footnanny Treatment Gift Set – Rose Foot Cream and Rose & Lime Aromatic Foot Salts," said Williams who is also a celebrity pedicurist.
"My newest aromas: pumpkin/vanilla, lemon, and eucalyptus are available only in an 8 oz. size," said Williams. "Also available is my
foot basin
with 20 disposable liners and the
Footnanny 10 Wellness Kit
for at-home pedicures or to take to any nail salon as a sanitary safety measure. This set includes a nail clipper, nail files, nail buffers, 2 oz. jar of foot cream, spa socks, pedicure slipper, and much more."
The Footnanny Brand's popularity was the result of a tweet sent a few years ago by Ms. Oprah Winfrey that went viral and followed by the foot creams selected as Oprah's Favorite Things in 2014, 2015, and 2016. "Making the O Magazine's List for an unprecedented third year in a row has been phenomenal and humbling," said Williams who expanded her brand to include foot soaking salts with therapeutic properties of essential oils combined with a blend of four salts: Himalayan, Dead Sea, Foaming Sea Salt, and Epsom to create the perfect balance of a natural foot detox.
"There's a reason Footnanny has made the list for three years in a row: it's just incredible! Founder Gloria Williams and I sniffed so many scents before settling on rose and rose-lime," said Ms. Winfrey. Williams was honored that Ms. Winfrey participated in the scent selection for the 2016 rose limited edition.
Williams chooses aromas that evoke memories from her childhood. "This year's rose fragrance has a refreshing floral effect, which can evoke the spirit of love and romance, was selected for the loving memory of my dear mother who adored her little rose bush," said Williams.
"My aromatic creams are made with a blend of shea and cocoa butters, aromatherapy, and vitamins in a rich cream designed especially for feet," said Williams, a certified reflexologist. "I recommend my unscented foot cream for diabetics and pregnant women."
"Bed Bath & Beyond and Footnanny share the philosophy of offering an assortment of merchandise at the right value and providing excellent customer service," said Williams. "My mission is to touch people with my products in every zip code in the United States." Williams is well on her way to achieve her goal. Footnanny products will be available on the shelves at select Bed Bath & Beyond stores in Spring 2017.
Promoting health and wellness for feet globally is Williams' mission. The Footnanny Signature Treatment has been the ultimate indulgence for Ms. Winfrey, Stedman Graham, and Gayle King. Celebrities, such as First Lady of the U.S. Michelle Obama, Maria Shriver, 2016 Olympic Gold Medalist Justin Rose, Taraji P. Henson, Randy Jackson, Lady Gaga, Loretta Devine, Omar Gooding, A$AP Rocky, Cicely Tyson, Julia Roberts, Sean "P Diddy" Combs, Bellamy Young, Sela Ward, Rita Wilson, Patrick Faucette, Paula Jai Parker, Jessica Simpson, Ashanti, Christy Turlington, Keri Russell, and more have experienced the Footnanny "dream" cream and soaking salts.
For more information about the collection and to shop the expanded assortment, including holiday gift sets, visit
www.bedbathbeyond.com
. #FootnannyRoseHolidayGiftSet #OprahsFavoriteThings
Footnanny is on Twitter and Instagram @Footnanny. Like her on Facebook to get tips about foot care. To connect with Footnanny, send a note to footnanny@footnanny.com.
For appearances and interviews, contact Platinum Star PR at info@platinumstarpr.com or 213-276-7827.
About Gloria L. Williams
Gloria L. Williams, a native of Chicago, is the creator and CEO of footnanny.com. She is a licensed nail technician, spa consultant, and certified reflexologist. Williams is the personal pedicurist for Ms. Oprah Winfrey. Williams' Footnanny cream made the prestigious Oprah's Favorite Things 2014, 2015, and 2016 list. Her products have been featured on HSN, The Talk, The View, Good Morning America, and at the Valspar Golf Championship at the Innisbrook Resort. Williams gives back to several charities including Blessings in a Backpack and Kiva.
Marie Lemelle
Platinum Star PR
(213) 276-7827
email us here
Gloria L. Williams Shares Her Story About the Footnanny Brand