Winners Announced in 33rd Annual North Carolina Holiday Flotilla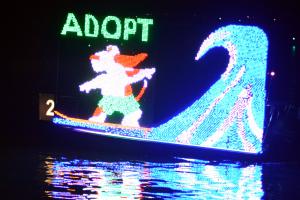 NC Holiday Flotilla People's Choice Award – Photo courtesy of Beth W. Hedgepeth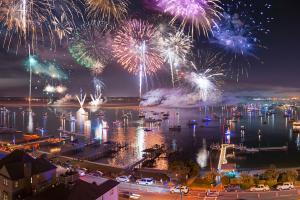 NC Holiday Flotilla Panoramic – by Ned Leary Photography
North Carolina Holiday Flotilla, Zambelli Fireworks, and Airlie Gardens Launch the Carolina Holidays
WRIGHTSVILLE BEACH, NC, UNITED STATES, November 27, 2016 /
EINPresswire.com
/ -- Thanksgiving week, known as flotilla week in Wrightsville Beach, launched the Carolina holiday season with the 33rd annual North Carolina Holiday Flotilla, including a 4,000-round Zambelli Fireworks display, and the season opening for Airlie Gardens' 12th annual Enchanted Airlie.
"We had perfect weather Saturday evening for the flotilla andEnchanted Airlie," said Karen Pennington of Blockade Runner Beach Resort, host hotel for the flotilla. "The sky was clear; temperatures were seasonally warm at 55 to 60 degrees with a light breeze."
Winning flotilla entries were announced on Sunday at the Captain's Luncheon. For the second consecutive year, Brent Jernigan of Lake Waccamaw, North Carolina, captured the Best of Show trophy, which passes from winner to winner each year.
33rd Annual North Carolina Holiday Flotilla Winners:
Category: Best of Show
Captain: Brent Jernigan
Vessel: Craig Cat #11
Theme: White Water Christmas
Category: Peoples Choice
Captain: Mark and Leslie Armstrong
Vessel: Come on Cletus #2
Theme: Hang Claws
Category: Crowd Favorite
Captain: Jordan Messick
Vessel: Tall Tail #8
Theme: The Jolly Jellyfish
Category: Best Powerboat 31ft. and over
Captain: Jewell Jessup and Carlos Ferrario
Vessel: Endless Summer #1
Theme: Rock the Boat - A Floating Studio 54
Category: Best Powerboat 23ft. - 31ft.
Captain: Patrick, Christina, and Charlie Hudson
Vessel: Charlie #5
Theme: The Pirates of Wrightsville
Category: Best Powerboat 22ft. and under
Captain: Tim Morrison
Vessel: Wake Zone #16
Theme: Train
Category: Best Sailboat
Captain: Kevin Snyder
Vessel: Why Knot? #17
Theme: Coastal Christmas
Category: Best Costumes & Crew Spirit
Captain: Michael and Chris Spivey
Vessel: Angler Management #7
Theme: The Christmas Kraken
Click here for winner photos
Airlie Gardens' Enchanted Airlie, with an estimated one million colorful lights, holiday displays, and seasonal music spread over 35-acres of walking trails, continues through December 22.
Remaining dates for Enchanted Airlie in 2016 include Dec. 2-4, Dec. 9-11, and Dec. 15-22. There are two reservation times each evening, 5-7 and 7-9 p.m. Enchanted Airlie tickets are available on the Airlie Gardens website, or Blockade Runner guests can call the hotel to make arrangements.
Airlie visitors should plan ahead. "We will sell out all dates and times," said Janine Powell, Airlie Gardens Director of Donor Relations.
Proceeds from Enchanted Airlie benefit the preservation and improvement of New Hanover County's historic Airlie Gardens.
Click here for Accommodations
Click here for Airlie Gardens' Reservations
Contacts:
Janine Powell, Director of Donor Relations
Enchanted Airlie, Airlie Gardens
Office: 910-798-7700
Cell: 910-612-7854
jpowell@nhcgov.com
Linda Brown
North Carolina Holiday Flotilla
910-256-2120
info@NCHolidayFlotilla.org
North Carolina Press Release
www.RBButler.com
www.NCPressRelease.org
Keywords: #NorthCarolinaHolidayFlotilla #AirlieGardens #EnchantedAirlie #Thanksgiving #Christmas #BlockadeRunnerBeachResort #ZambelliFireworks #WrightsvilleBeach #NorthCarolina #FlotillaWinners
Robert B Butler
Butler Communications | PR
9194558345
email us here