Charred Accoya: Sustainable Shou Sugi Ban Exterior Siding with 50 Year Warranty
MATSU :: shou sugi ban charred Accoya from reSAWN TIMBER co.
Non-Charred Accoya at Louis Vuitton in Santiago, Chile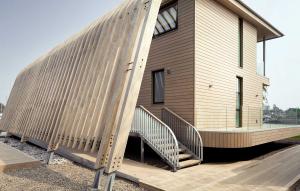 Non-Charred Accoya Wood in The Haven, UK
reSAWN TIMBER co. is pleased to introduce 6 new shou-sugi-ban charred design on FSC-certified Accoya® wood for exterior siding and interior wall cladding.
TELFORD, PA, USA, May 25, 2016 /
EINPresswire.com
/ --
reSAWN
TIMBER co. is pleased to introduce
shou sugi ban
CHARRED Accoya
- 6 new designs recently added to the CHARRED collection - for exterior siding and interior wall cladding. Accoya® wood is the result of decades of research and development that has brought together a long-established, extensively proven wood modification technique and leading-edge patented technology - acetylation - to create a high performance wood, ideal for outdoor use and challenging applications. By significantly enhancing the durability and dimensional stability of fast-growing and abundantly available certified wood species, Accoya® wood provides compelling environmental advantages over slow-growing hardwoods (which are often unsustainably sourced), woods treated with toxic preservative chemicals, and non-renewable carbon-intensive materials such as plastics, steel and concrete.
All our CHARRED Accoya® products are FSC certified and come with a 50-year warranty on the wood when used above ground; 25-year warranty when used at/below ground level.
HIGHLIGHTS:
DIMENSIONAL STABILITY – Swelling and shrinkage reduced by 75% or more
OUTSTANDING DURABILITY – Lasting 50 years above ground, 25 years in ground/freshwater Class 1 durability, surpassing even teak
INSECT BARRIER – Indigestible to a wide range of insects, including termites
NATURALLY INSULATING – Ideal for applications where energy conservation is important
FROM SUSTAINABLE SOURCES – From FSC, PEFC and other regionally certified woods
NON-TOXIC & RECYCLABLE – May be safely reused, recycled and incinerated
MORE ON ACCOYA:
Spanning eight decades of research, Accoya® wood combines past and present scientific wood acetylation study with a proprietary production process to deliver reliable commercial-scale results. In producing Accoya® wood, the chemical structure of the wood is modified from the surface to the core, providing a class leading durable and exceptionally stable product. Accoya® wood is fast becoming the material of choice for exterior applications and can be used for virtually anything, from windows to doors, decking to cladding and siding, and even for applications which were once only feasible with non-sustainable materials.
Accoya® wood is suitable for cladding, siding and façades and is the ideal choice where aesthetics and less frequent maintenance are critical. The dimensional stability, durability of Accoya® wood confirms a decreased overall life cycle cost. The dimensional stability provides for more design flexibility on board width, thickness, joints and coating colors including black. The durability provides for an exceptional service life.
Accoya® wood has been tested over prolonged periods in all types of weathering conditions — above ground, below ground and even in water for 20 years — and has been proven to withstand the toughest of external environments.
MORE ON SHOU SUGI BAN:
reSAWN's award-winning CHARRED collection pays homage to the traditional Japanese technique of "shou-sugi-ban" aka "yakisugi" without being literal. Historically very specific in their definition, "shou-sugi-ban" and "yakisugi" have become common nomenclature for modern charred wood designs in general. Our CHARRED products are made right at our facility in Telford, PA. We use domestic wood species whenever possible, including Cypress from the Southern US and domestic White Oak, Black Walnut, Red Oak & Ash as well as reclaimed woods from the US. Our designs have been carefully developed using modern finishes and incorporating our many years of experience in the architectural & design specification market. We pride ourselves on manufacturing charred wood products for a range of applications including exterior siding, interior wall cladding & flooring, and custom furniture.
reSAWN TIMBER co. ships anywhere in the USA & abroad. reSAWN works with an international network of distributors and sales reps to make our products easily accessible throughout the global design community. Having our manufacturing facility in PA makes us uniquely positioned to service the US East Coast market - we are about 45 minutes outside of Philadelphia, 2 hours from New York City and 4 hours from DC. Our materials have been installed throughout the Unites States, as well as in Hong Kong & Canada
Contact reSAWN TIMBER co. at 1-800-985-5355 or visit
www.resawntimberco.com
to learn more about our FSC® products and our CHARRED collection.
Tina DiMichele
reSAWN TIMBER co.
1-800-985-5355
email us here