Beppe Gianoglio receives the "La Bella Macchina Award" from Concorso Italiano at Festivalcar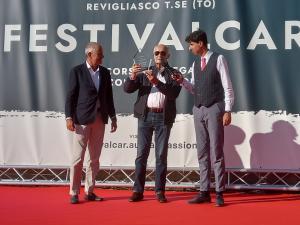 The nomination, with the consequent assignment of the "La Bella Macchina Award", was officialized on August 19th at Concorso in Seaside (CA)
I am honored to receive this award, and above all I am very pleased that through my work I can convey my great passion for this sector."
— Beppe Gianoglio
REVIGLIASCO, TURIN, ITALIA, September 26, 2023 /EINPresswire.com/ -- Beppe Gianoglio, organizer for 40 years of Automotoretrò, entered the Hall of Fame of Concorso Italiano.
The nomination, with the consequent assignment of the La Bella Macchina Award, was officialized on August 19th at Concorso in Seaside (CA), where Gianoglio could not attend for personal reasons.
The opportunity for the hand over was offered by Festivalcar, the concours d'elegance organized by the car webzine Autoappassionati, which this year brought together a hundred cars and a large crowd of collectors and enthusiasts. Raffaello Porro, Italian ambassador of Concorso Italiano, presented the award to Beppe Gianoglio at the opening of the prize ceremony, together with the director of Autoappassionati Federico Ferrero.
This is the motivation of the award: "Since 1983 Automoretrò offers a selection of the best jewels of the past two and four wheels, promoting private collecting, the trade of cars, spare parts and memorabilia and the spread of motor culture. The event has gained over 1,200 exhibitors and more than 73,000 visitors yearly, from all over Europe, with a consolidated presence from France, Switzerland, United Kingdom, Spain, Germany, Austria and Holland. The intention of the organizers has always been to share their passion with the large public, encouraging private collecting and the spread of motor culture. Motivated by the desire to create a platform that would ignite in others the same enthusiasm for vintage cars, Gianoglio founded "Automotoretrò" in Turin.
The event was born on a modest scale, but under his visionary guidance it has grown steadily year after year. With his attention to detail and uncompromising commitment to quality, he curated an exhibition that showcased the best collections of vintage cars, capturing the essence of Italy's rich automotive heritage. "Automotoretrò" has become a time capsule that has transported visitors to a bygone era, where craftsmanship and mastery reigned supreme. Beyond the exhibition itself, Beppe Gianoglio recognized the importance of promoting knowledge and understanding among participants. he gave birth to educational workshops, roundtables and seminars, bringing together experts and enthusiasts to share their skills and insights."
Gianoglio: "I am honored to receive this award, and above all I am very pleased that through my work I can convey my great passion for this sector. In 40 years Automotoretrò has grown a lot, it has admirers all over the world and this recognition spurs me to do even better the next edition, scheduled from 8 to 11 February 2024 at the Fiera di Parma".
Raffaello Porro: "I have known and esteemed Federico Ferrero since he launched his website Autoappassionati in 2007. I was sure that Festivalcar would have been the right opportunity to recover the missed delivery of the award to Beppe Gianoglio and I am grateful to Federico on behalf of Concorso Italiano for giving me this opportunity. Gianoglio deserved a public of cars and collectors in his Turin that saw him grow Automotoretrò year after year."
Concorso Italiano
Concorso Italiano® is the event born in the mid-1980s in Monterey, California, that brings together numerous prestigious tricolor automotive brands, who display their classic and road cars, enhancing the creative dialogue between product and passion in front of the demanding American public, on the green hills overlooking the Pacific Ocean of the Bayonet Black Horse Golf Course, in the heart of the most luxurious and well-known showcase of the industry of its kind, Monterey Car Week. The event is founded on a passion for Italian cars and Italy and provides an opportunity for meetings and discussions with international motoring personalities with whom to share a love for our country. Concorso Italiano brings together all the cultural elements of Made in Italy, including music, cuisine, fashion, travel and, of course, cars. Since 2009 it has been directed by Tom McDowell, an American entrepreneur who has always been passionate about motors, and since 2016 Raffaello Porro, CEO of StudioRPR, has been co-organizer and ambassador in Italy of the event.
The event gathers more than 1,000 Italian collector cars on the greens of the Bayonet Black Horse Golf Course in Seaside every year in August: more than 5 thousand square meters of exhibition space, where supercars, concept-cars, one-offs, very limited series of today and yesterday are displayed side by side, parade and compete to be awarded by a selected jury. A day where you can breathe the true all-round tricolor passion, motoring passion, of course, but not only, all to be shared. In fact, this event is not only about cars but also about people and their stories related to the automotive world on four and two wheels. Over the years it has distinguished itself by having an increasingly international scope, and the enthusiasts who attend come from all over the world. Eighty percent are entrepreneurs or professionals and 70 percent are in the highest income bracket. Concorso Italiano® is also a major contributor to many local, national and international charitable organizations. Concorso also supports Habitat for Humanity.
Contatti
Elisa Bonora - StudioRPR
Mobile +393392538019
elisa.bonora@studiorpr.com
Giorgia Venturi
StudioRPR
email us here