Flex Received KT Situation Appraisal Excellence and Utilization of KT Process in Manufacturing Awards from Kepner-Tregoe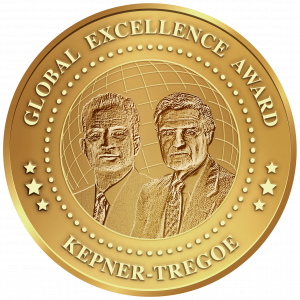 2023 Kepner Tregoe Awards Seal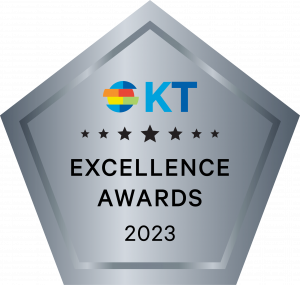 2023 KT Excellence Awards Pentagon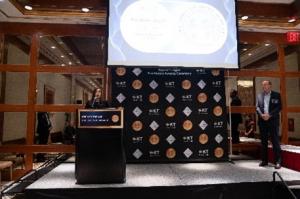 Estefania Gutierrez and Bill Baldwin
PRINCETON, NEW JERSEY, UNITED STATES , September 22, 2023 /
EINPresswire.com
/ --
Kepner-Tregoe
(KT), a leader in critical thinking technologies, proudly announces
Flex
Guad Plastics (Flex) as the winner of two awards: the KT Situation Appraisal Excellence Award and the Utilization of KT Process in Manufacturing Award. These accolades were received by Flex at the Global Excellence Awards Ceremony held on July 28th, 2023 in New York City.
The Situation Appraisal Excellence Award commends Flex for their mastery of this fundamental KT process. Their proficiency in applying this process has set an impressive company standard, yielding significant performance enhancing outcomes. Furthermore, the Utilization of KT Process in Manufacturing Excellence Award honors Flex for their extraordinary achievements within manufacturing operations.
Flex's nomination stood out among more than 100 submissions from companies around the world. The team's adept use of KT methodology led to the achievement of three significant milestones, propelling their remarkable growth trajectory. Concurrently, Flex orchestrated a strategic overhaul of their manufacturing services, leveraging integrated methods to meticulously plan, execute, manage, and surpass business goals.
These achievements elevate Flex as a model of global excellence in critical thinking. The Global Excellence Awards were presented to Estefania Gutierrez, Worldwide Plastics BE Manager, by Bill Baldwin, CEO of KT.
Kepner-Tregoe congratulates Flex Guad Plastics for their well-earned recognitions.
**About Flex Guad Plastics**
Flex (Reg. No. 199002645H) is the diversified manufacturing partner of choice that helps market-leading brands design, build, and deliver innovative products that improve the world. Through the collective strength of a global workforce across approximately 30 countries with responsible, sustainable operations, Flex delivers advanced manufacturing solutions and operates one of the most trusted global supply chains, supporting the entire product lifecycle with fulfillment, after-market, and circular economy solutions for diverse industries.
**About Kepner-Tregoe**
Kepner-Tregoe stands as a global leader in management consulting and effective problem-solving. Leveraging over 65 years of experience, we empower organizations to dissect intricate challenges, make informed decisions, and drive impactful change. With a proven approach and extensive expertise, Kepner-Tregoe has established itself as a trusted partner to a diverse array of Fortune 100 companies.
Phillip Thompson
Kepner-Tregoe
+ +491701611566
email us here
Visit us on social media:
Facebook
Twitter
LinkedIn
YouTube