REALHER Makeup Unveils Exclusive Collaboration with Top Designers
Model with Blurring Veil Powder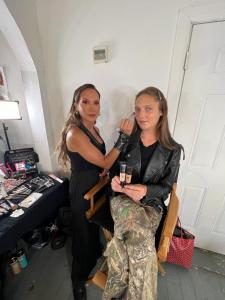 Model with Power Wear Liquid Foundation
Model with Ultimate Glow Getter Cheek Trio
REALHER Makeup brings a breath of fresh air as it makes a striking never-before-seen collaboration with NYFW. Beauty and Fashion finally see a revolution.
NEW YORK, NEW YORK, USA, September 19, 2023/EINPresswire.com/ -- The stage is set, the models are ready, and the city that never sleeps is abuzz with excitement as New York Fashion Week 2023 gets underway. This year, the world-renowned event is about to get even more glamorous, as REALHER Makeup proudly announces its exclusive collaboration with top designers, bringing the power of makeup to the forefront of the runway.
REALHER, a trailblazing beauty brand known for its empowering products, has teamed up with some of the fashion industry's brightest stars to showcase a unique fusion of makeup and fashion. The result? A runway experience like no other, where beauty meets style in the most captivating way possible.
The New York Fashion Week 2023 REALHER Collaboration promises a collection that's not just about makeup but also about confidence, self-expression, and the celebration of individuality. REALHER's commitment to authenticity and empowerment aligns perfectly with the fashion world's ever-evolving landscape, making this collaboration a match made in style heaven.
"As a brand, REALHER has always stood for authenticity, self-love, and empowerment," said Bill Xiang, founder of REALHER Makeup. "We are thrilled to partner with some of the most innovative designers at New York Fashion Week 2023, where makeup becomes an integral part of the fashion story. Our products are designed to inspire confidence and celebrate every individual's unique beauty, and we're excited to see them complement these incredible fashion creations on the runway."
New York Fashion Week 2023 attendees can look forward to witnessing stunning makeup looks created using REALHER's high-quality products, which include everything from lipsticks and eyeshadows to foundations and blush. REALHER's commitment to clean, cruelty-free, and inclusive beauty products ensures that all runway models can confidently showcase their individuality.
The collaboration will feature exclusive runway shows, behind-the-scenes footage, and interactive experiences for fashion enthusiasts worldwide. REALHER Cosmetics will also be hosting special events, pop-up shops, and opportunities for fans to get a firsthand look at the makeup artistry behind the scenes.
Stay connected with REALHER Makeup on social media (@realhermakeup) and the official New York Fashion Week 2023 channels to catch all the excitement as it unfolds. Join us in celebrating the union of beauty and fashion, where REALHER's makeup products will bring the runway looks to life in stunning and empowering ways.
About REALHER Cosmetics:
REALHER goes beyond cosmetics; it's an entire lifestyle. You'll find a meaningful affirmation with each piece intended to enhance inner and outer beauty and motivate your own personal journey. We want our products to inspire, and as one of our eye shadow palettes says, "Make It Happen!"
REALHER has a lab based in the U.S. where we are able to combine technology and beauty to bring you freedom of choice, beauty, and expression. We apply cutting-edge science and effective ingredients at the highest level to provide natural, authentic beauty without sacrificing convenience or quality. Our goal is to "amplify beauty" with next-generation cosmetics, which impact both the inside and out.
Our call-to-action branding and celebrity collaborations have put us on the map in Hollywood. REALHER has been worn by Tracee Ellis Ross, Kelly Clarkson, Hillary Duff, Cardi B, Chris Han, Veronika Losyuk, Annie Tran, and countless others who appreciate the product and support its mission.
We are not here to change perceptions or alter appearances, but to inspire and allow you to embrace who you are, and what makes you unique. REALHER believes that everyone has their own kind of beauty to share. We connect people through their love for self-expression.
"To create change, it was very important to attach our mission with a powerful, innovative product with benefits and features they had never seen before…. Having my first daughter gave me a sense of self-awareness and purpose. Yarie has a real, genuine, and contagious beauty- it inspires me to be better and make a positive impact."
— Founder and Father, Bill Xiang
Lorde + Belle x REALHER
Lorde and Belle Inc
marketing@lordeandbelle.com
Visit us on social media:
Facebook
Twitter
Instagram
TikTok
MUA talking about Blurring Veil Setting Powder by REALHER Makeup