"International BOLGE Hospital" managed to obtain the JCI Certificate 3 times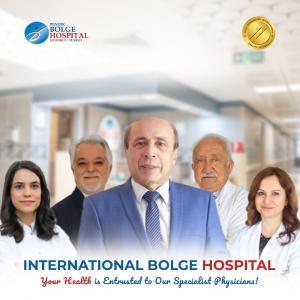 Our Professional Health Team

High technology, a large hospital with 150 beds, treatment in 40 different branches
INTERNATIONAL BOLGE HOSPITAL' remains committed to upholding high standards in patient safety, patient care, and operational excellence."
Insurance patients and expats should prefer hospitals that stand out with their accreditation, strong insurance and legal infrastructure. We care about you."
— Prof.Dr. Turgut GÖKSOY
İSTANBUL, İSTANBUL, TüRKIYE, September 21, 2023 /
EINPresswire.com
/ -- International Bolge Hospital has earned the JCI Certificate for the third time following a detailed examination by the Joint Commission International (JCI). This prestigious certificate signifies the hospital's compliance with international standards and its commitment to patient safety.
For a hospital to achieve the JCI certificate is a sign of exceptional quality and excellence in international healthcare services. JCI's objective is to continuously enhance the safety and quality of global healthcare services through education, consulting services, and international accreditation and certification. In this context, it continues its efforts to improve patient safety and the quality of healthcare services worldwide by providing education, publications, consulting services, and international accreditation and certification services.
Collaborating with various stakeholders such as hospitals, clinics, academic medical centers, healthcare systems, institutions, ministries, universities, and international advocates in more than 100 countries, JCI aims to promote rigorous health standards and strive for the highest performance.
By earning this certificate, International Bolge Hospital continues to embrace best practices in critical areas such as patient-centered care, hygiene, medical equipment usage, and quality management. The Chairman of the Board of International BolgeHospital stated that the certificate was achieved due to the intensive efforts of the hospital staff and their commitment to consistently providing high-quality services. He also emphasized their continuous efforts to increase patient satisfaction and improve healthcare outcomes.
International Bolge Hospital is not receiving this certificate for the first time. The Founding CEO of the hospital, PROF. DR. TURGUT GÖKSOY, said, 'Winning this certificate for the third time shows that our hospital consistently adheres to high standards in patient care and safety. Patient-centered care and quality are among our top priorities. This certificate is a result of the dedicated efforts of all the staff in our hospital. This is not the first time we have received this certificate. Our goal is not only to possess the certificate but also to demonstrate that our quality service is also certified by an international authority.'
By achieving the JCI certificate, International Bolge Hospital continues to maintain its leadership in patient-centered care and excellent healthcare services. This achievement reflects the dedication of the hospital staff and their commitment to providing the best service to their patients. Serving patients from all around the world as a preferred hospital for international patients is our greatest joy at International Bolge Hospital.
Nergis Altıntaş
International Bölge Hospital
+90 549 736 46 04
igeme@igeme.com.tr
Visit us on social media:
Facebook
Instagram
YouTube
International Pendik Bölge Hospital received JCI certificate