NOVEL "OBLIVION" BY AUTHOR SARA PODGOREANU LAUNCHED WORLDWIDE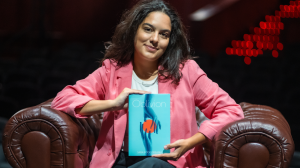 Sara Podgoreanu, Author Oblivion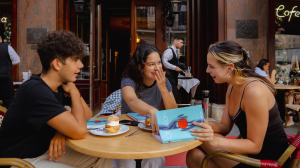 Sara Podgoreanu, Author Oblivion with Friends
Oblivion book in focus
With its intriguing storyline and emotionally charged themes, "Oblivion" is set to captivate readers and leave a lasting impression.
As we navigate life's uncertainties, may we all find solace in the unbreakable threads that connect us to those who truly matter."
— Sara Podgoreanu
ALTONA, MANITOBA, CANADA, September 13, 2023/
EINPresswire.com
/ --
Sara Podgoreanu
, a talented author from Bucharest, Romania, is thrilled to announce the launch of her debut novel, "
Oblivion
." With its intriguing storyline and emotionally charged themes, "Oblivion" is set to captivate readers and leave a lasting impression.
Sara Podgoreanu is a passionate writer. Her deep appreciation for fiction shines through in her writing, characterized by its reflective nature and ability to strike an emotional chord. Through years of dedicated study learning in various international schools, Sara has honed her craft and her novel, "Oblivion," is a testament to her creativity and talent.
"Oblivion" tells the heart-wrenching story of Oliver and Daiki, high school sweethearts who were tragically separated before they could truly begin their love story. Fate brings them together again years later at a friend's engagement party, and both of their lives have changed dramatically. Oliver, still broken-hearted, struggles to accept Daiki's relationship with someone else.
However, when their mutual friends experience a sudden breakup just before their wedding, tensions rise, and uncertainties emerge. The once seemingly solid relationships are tested as hidden jealousies and long-buried secrets come to light. Amidst it all is Daiki, the love of Oliver's life. Despite the consequences, they cannot deny their irresistible pull towards each other. Oliver yearns for a second chance, but the path to happiness with Daiki could be smoother. Past shame and secrets resurface, haunting them like ghosts.
Can Oliver and Daiki overcome their differences and leave their complicated past behind, or is love sometimes not enough? "Oblivion" explores the complexities of relationships, the power of second chances, and the enduring nature of love.
This deeply moving novel is specifically targeted at the LGBTQ young adult audience, who will relate to and resonate with the characters and themes presented in the book.
Sara Podgoreanu hopes that "Oblivion" will capture readers' hearts and serve as a platform for meaningful conversations surrounding themes of love, acceptance, and personal growth. In a society where LGBTQ voices are increasingly recognized and valued, Sara's novel adds another essential perspective to the literary landscape.
Readers who are eager to delve into the emotional world of "Oblivion" can purchase the softcover or hardcover book online at FriesenPress Bookstore, Amazon, and Barnes&Noble, or find it in a bookstore as the book is available through over 50,000 bookstores, online booksellers and libraries worldwide. The E-book format is available on FriesenPress Online bookstore, Amazon, Google Play Books, Barnes &Noble Nook, Rakuten/Indigo Kobo and Apple Books. Soon it will be available in the
Carturesti
network in Romania.
The novel, available in print and e-book formats, ensures accessibility to a wide range of readers. Sara Podgoreanu encourages everyone to join her on this emotional journey. She hopes that "Oblivion" will leave a lasting impact on readers, and she is daring to dream of having a Netflix adaptation in the future.
Companies, universities, high schools, bookstores and other event organizers are encouraged to reach out to book an Author Visit, to connect further and inspire future writers, or simply discuss the themes raised in the book.
For more information about "Oblivion" or to connect with Sara Podgoreanu, please visit the book page on FriesenPress -
https://books.friesenpress.com/store/title/119734000338641752/Sara-Podgoreanu-Oblivion
###
About Sara Podgoreanu:
Sara Podgoreanu hails from Bucharest, Romania. She lives with her family and pet dog and is an avid reader, movie lover, and gamer. She writes emotionally driven, introspective stories that will tug on heartstrings. Fiction is her outlet and passion; she enjoys perfecting her craft through continued study. Oblivion (2023) is her first published novel, marking the beginning of an exciting and promising writing career.
Claudia Marta
Critical Thinking
claudia.marta@criticalthinking.ro
Visit us on social media:
Facebook
Twitter
LinkedIn
Instagram