Blue Collar Records Artist Deige Releases New Single "She Ready" Featuring Mir Fontane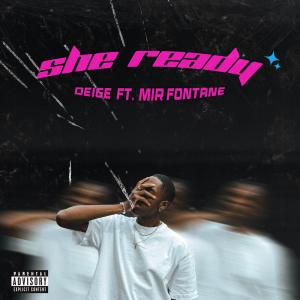 LUMBERTON, NJ, USA, May 19, 2023/
EINPresswire.com
/ -- With close to 15 singles since dropping his first self-produced joint "Hasta Luego" in 2019, Deige has been profiled by a variety of taste making indie sites, which have lavished praise on his soulful musical flows, unique sonic vibes and clever wordplay and rhymes. There is one consistent biographical detail in each review and article: the Jersey native's success in rap and hip-hop was practically inevitable because they were in his blood. His uncle and cousin were heavily into East-Coast rap in the early 2010s, and they collaborated on mixtapes for years.
So it might surprise Deige's growing legion of fans (who stream and watch his videos by the tens of thousands) to learn that his original goal was to be an R&B artist. Growing up, he played piano, violin and guitar while mastering all the programs and home studio equipment that his very supportive parents hooked him up with. But when it came time to take an honest assessment of his musical future, he realized that while he had a knack for making rhymes, his distinctive voice was better suited for rap and hip-hop than R&B.
Since signing with Blue Collar Records, Deige has released several singles, including "Letter To My Past" and "Murder She Wrote". Both songs have performed well for his new label, but clearly Deige is only getting started. Joining forces with hip-hop star Mir Fontane, Deige's expert flow belongs at the top of the charts. After one listen of "She Ready" it is all but certain fans will agree.
Deige has proved yet again he's ready to continue the ambitious musical journey he charted way back in 2019.
You can stream "She Ready"
here,
as well as on every digital music provider.
Gary Bernard
Blue Collar Records
email us here