Urban Value Corner Store Expands to Historic Downtown Plano, Texas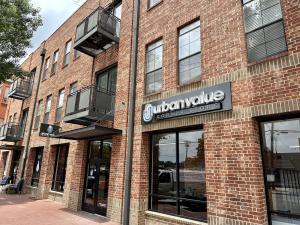 New Store Brings Convenient Shopping and Essential Goods to Bel Air Apartment Community Residents
PLANO, TX, UNITED STATES, May 25, 2023/
EINPresswire.com
/ --
Urban Value Corner Store
is excited to announce the opening of its newest location in Historic Downtown Plano, situated at 1405 Vontress Drive, #C1101, Plano, Texas 75074, under the Bel Air Apartment Community. This marks the eighth location in the Dallas-Fort Worth area, with plans for continued expansion.
"Historic Downtown Plano, Texas, is perfect for our next Urban Value Corner Store. The vibe, walkability, and community spirit are what attracted us to the area. This location will be our eighth in the DFW market, with more to come. "Our focus on improving the living experiences of the residents we serve resonates with the developers we are partnering with of these high-density communities," said founder and CEO of Urban Value Corner Store, Steve McKinley.
Urban Value Corner Stores provide apartment complex owners with a valuable amenity for their tenants, offering convenient access to essential goods and services. The stores carry a wide range of products, including groceries, household items, and personal care products, all at competitive prices. Extended hours of operation ensure that tenants have access to the items they need, contributing to improved satisfaction and retention rates.
Founded with the mission of revolutionizing the way urban residents shop, Urban Value Corner Store brings convenience and quality to the doorsteps for the residents and workers of historic Downtown Plano, Texas. The stores offer a quiet and clean shopping environment, stocking an array of food and beverages such as beer, wine, sodas, freshly brewed coffee, pastries, snacks, and healthy meals. Additionally, essential household items, OTC medications, pet snacks, toys, and local Texas-made products are available.
By providing a convenient and affordable shopping option for urban residents, Urban Value Corner Store is making a positive impact on the community and enhancing the quality of life for its residents.
For inquiries about placing an Urban Value Corner Store in your community, email info@
urbanvaluestore.com
or visit urbanvaluestore.com.
Steve McKinley
Urban Value Corner Store
info@urbanvaluestore.com