First ever Rare collage of Warhol Polaroids, commissioned by Playboy in 1974 being sold at Santa Monica Auctions May 6th
Instant WARHOL, 1974, Playboy, Framed Polaroid Photo Collages with copies of the 1974 Playboy (Andy with Camera). 24 ¾ x 26 ⅞ inches, Lot #47 estimate $400,000- $500,000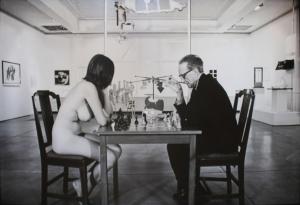 Julian Wasser, photograph "Duchamp Playing Chess with a Nude (Eve Babitz)", Duchamp Retrospective, Pasadena Art Museum, 1963, Printed 2016; Edition of 5; Signed twice, Lot #46 estimate $60,000-$70,000
ELLIOTT ERWITT, California Kiss, (Malibu), 1955, Gelatin Silver Print, Image: 11 5/8 x 17 1/4 inches, Estimate: $4,000-$5,000
Rare "INSTANT WARHOL", being auctioned at SANTA MONICA AUCTIONS on Sat. May 6th: four framed 66 photographs, 15 collages, 1 polaroid, commissioned Playboy 1974
This is an incredibly rare opportunity for Warhol collectors. It's likely the first Fine Art Polaroid Collage ever made (1974) and the first time they're being auctioned as a complete set"
— Robert Berman, Founder Santa Monica Auctions
LOS ANGELES, CA, UNITED STATES, April 30, 2023/
EINPresswire.com
/ -- ANDY WARHOL "INSTANT WARHOL", 1974 is one of the many highlights of
SANTA MONICA AUCTIONS
Photography auction on Saturday, May 6th, 2023. Lot#47 features four framed Andy Warhol Polaroid Collages which consists of 66 photographs, 15 collages and one (1) individual polaroid, commissioned by Hugh Hefner and first published in Playboy, August 1974. "This is likely the first Fine Art Polaroid Collages ever made", states Robert Berman, Founder of Santa Monica Auctions. The works remained in the Playboy collection and were de-accessed throughout a twenty (20) year period. Three (3) of the four framed works were featured and exhibited at the Andy Warhol Museum in Pittsburgh, PA October 3, 2008- February 13, 2009. In 2008-2009 (these three sets were insured by the Andy Warhol Museum at a value of $300,000. The four framed collages were acquired by their consignors over the last few decades. This is the very first time they will be auctioned as a complete set of four (4), along with copies of the 1974 Playboy to Warhol Photo Assignment, a copy of the 1974 Playboy Check to Andy Warhol and an original letter from Playboy explaining the Warhol photographs. Also included with the provenance are other receipts, the Original Playboy Magazines (1974 and 1990) that featured the photographs and a copy of the 1974 Embossed Self Portrait of Andy Warhol in a mirror, that Warhol shot for Playboy of himself with a Polaroid Camera, published in both 1974 and again in 1990.
Estimate: $400,000 - $500,000
__________________________________________
SANTA MONICA AUCTIONS 2023 SPRING auction will consist of a dual auction:
May 6th, starting at 1pm approx. 100+ lots of photography and will follow with a charity auction of 28 lots supporting the non-profit
Focus On AIDS
.
May 7th, 2023, 1pm will feature approx.. 180 lots of modern and contemporary art.
Day 1: Saturday, May 6th starting at 1pm: over 100 works of photography by some of the most renowned photographers of our time, some of which will include: Andy Warhol, Ansel Adams, Diane Arbus, Henri Cartier-Bresson, Lola Álvarez Bravo, William Eggleston, Elliot Erwitt, David Fokos, Robert Heinecken, Lee Friedlander, Marvin Newman, Alex Prager, William Claxton, Brett and Edward Weston.
Following this, in support of the Focus On AIDS (FOA) Foundation, an all-volunteer non-profit 501(c)(3) charity founded in 1987 by Susan Baraz, Hossein Farmani and Robert Berman, we will commence a special benefit auction of 28 photographs with 100% of the hammer proceeds donated to FOA. The standard buyer's premium will be added to the hammer price. Artists: Berenice Abbott, Lillian Bassman, George Hurrell, Allen Ginsburg, Elliott Erwitt, as well as GOAT, A Tribute to Muhammad Ali, a Taschen book. Everything for FOA will be offered without reserve!
_______________________
Day 2: Sunday, May 7 starting at 1pm: Day two will include the original work by Shepard Fairey, HOPE, 2008. This is the FIRST and ONLY canvas artwork made of the iconic HOPE image specifically created for the posters used in Barack Obama's historic 2008 presidential campaign.
In addition, we will be featuring over 100 works of fine art: Andy Warhol, Mary Corse, Keith Haring, Carlos Almaraz, Jean-Michel Basquiat, David Hockney, GRONK, Sam Francis, Eric Orr, Robbie Conal, Billy Al Bengston, Alex Katz, Ed Moses, Jenny Holzer, Christo, John Baldessari, Sterling Ruby, Man Ray, Joan Miró, Marc Chagall, Robert Indiana, Ed Ruscha and Tom Wesselmann
Preview live and online NOW these and other works at our auction website: smauctions.com
Robert Berman
Santa Monica Auctions
+1 310-315-1937
info@smauctions.com
Visit us on social media:
Facebook
LinkedIn
Instagram
WARHOL Polaroid Collage and more presented b Robert Berman