UE LifeSciences expands collaboration with the American Cancer Society
The American Cancer Society and UE LifeSciences Join Hands to Fight Breast Cancer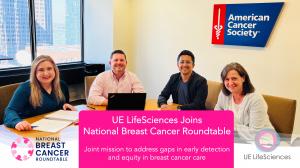 UE LifeSciences Joins American Cancer Society National Breast Cancer Roundtable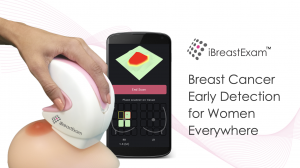 iBreastExam - Breast Cancer Early Detection For All
Joint Mission to Address Gaps in Early Detection and Equity In Breast Cancer Care
We are grateful for the support and the partnership with UE LifeSciences. Their participation in the ACS National Breast Cancer Roundtable will be invaluable"
— Sarah Shafir, VP, National Roundtables and Coalitions
PHILADELPHIA, PA, UNITED STATES, April 21, 2023/
EINPresswire.com
/ --
UE LifeSciences
and the
American Cancer Society
are collaborating to address disparities and inequities in breast cancer care, through innovation and advocacy. The alliance will focus on addressing gaps in early detection and access to treatment. UE LifeSciences will support the American Cancer Society's
National Breast Cancer Roundtable
in its inaugural year and renew its support for American Cancer Society Cancer Action Network.
"We are grateful for the support and the partnership with UE LifeSciences. Their participation in the ACS National Breast Cancer Roundtable will be invaluable as we work collaboratively with many public and private partners to ensure every person knows their breast cancer risk and screening needs, and has access to timely, high-quality, and compassionate screening, diagnostic, treatment, and supportive care." said Sarah Shafir, VP, National Roundtables and Coalitions
Examples of Disparities & Inequities in Breast Cancer Care in the United States:
• According to a recent study published in JAMA (Ref 1), compared to women diagnosed with screening-detected breast cancer, women diagnosed with interval breast cancer (between screening mammograms) were more than 3 times more likely to die from breast cancer.
• As per the CDC, breast cancer in women below 50 years of age is more likely to be found at a later stage and is often more aggressive and difficult to treat (Ref 2) , a population that has limited recommended access to early detection.
• Women with dense breasts are 4-5 times more likely to get breast cancer than women with fatty breasts (Ref 3, 4). Almost half of all women over 40 have dense breast tissue.
• Studies have found that rural residents, representing 23 million women, have lower rates of cancer screening and experience lower quality cancer care (Ref 5).
"There are real inequities and disparities in breast cancer care faced by various groups of women right here in the United States. I strongly believe that our broad-scale engagement with the American Cancer Society has the potential to truly help address and alleviate some of these disparities", said Mihir Shah, Founder and CEO, UE LifeSciences.
Study/Statistics References:
1. JAMA Netw Open. 2020;3(9):e2018179. doi:10.1001/jamanetworkopen.2020.18179.
2.
https://www.cdc.gov/cancer/breast/young_women/bringyourbrave/breast_cancer_young_women/index.htm
- as of April 21, 2023
3. Yaghjyan L, Colditz GA, Collins LC, et al. Mammographic breast density and subsequent risk of breast cancer in postmenopausal women according to tumor characteristics. J Natl Cancer Inst. 103(15):1179-89, 2011.
4. Boyd NF, Guo H, Martin LJ, et al. Mammographic density and the risk and detection of breast cancer. N Engl J Med. 356(3):227-36, 2007.
5. Charlton M, Schlichting J,Chioreso C, Ward M, Vikas P. Challenges of rural cancer care in the United States. Oncology 2015 Sep; 29 (9): 633–40.
https://pubmed.ncbi.nlm.nih.gov/26384798/
About UE LifeSciences
UE LifeSciences is an award-winning women's health company making early detection of leading cancers in women, equitable and accessible to all. Its hallmark product, iBreastExam, is an FDA cleared hand-held device that enables primary health workers to identify and document breast lumps non-invasively, within minutes and without any special infrastructure. More than 2 million women are set to receive an iBreastExam check-up across South Asia, Southeast Asia, Latin America and North America. UE LifeSciences has forged business alliances with leading pharma and med-tech companies, won several international awards and is rapidly expanding its scale and reach globally.
Learn more at
www.UELifeSciences.com
,
www.iBreastExam.com
About the American Cancer Society, American Cancer Society National Breast Cancer Roundtable and American Cancer Society Cancer Action Network
The American Cancer Society is the leading cancer-fighting organization with a vision of ending cancer as we know it, for everyone. We are the only organization working to improve the lives of people with cancer and their families through advocacy, research, and patient support, to ensure everyone has an opportunity to prevent, detect, treat, and survive cancer.
In late 2022, the First Lady Dr. Jill Biden joined the American Cancer Society to Launch the American Cancer Society National Breast Cancer Roundtable in the Next Step Toward Cancer Moonshot. The ACS NBCRT is a national coalition of member organizations dedicated to leading collective action across the nation so that every person and their support systems can access timely, high-quality, and compassionate screening, diagnosis, treatment, and supportive care needed to improve their survival and quality of life.
The American Cancer Society Cancer Action Network (ACS CAN) is making cancer a top priority for public officials and candidates at the federal, state and local levels. ACS CAN empowers advocates across the country to make their voices heard and influence evidence-based public policy change, as well as legislative and regulatory solutions that will reduce the cancer burden.
Learn more at
www.cancer.org
,
www.nbcrt.org
,
www.acscan.org
PR & Media
UE LifeSciences Inc.
+1 267-225-0453
Info@UELifeSciences.com
Visit us on social media:
Facebook
Twitter
LinkedIn
Instagram
YouTube
Testimonials from the American College of Obstetricians and Gynecologists on the iBreastExam