Transforming India through Innovation and Expertise: Insights from the India Digital Summit, 2023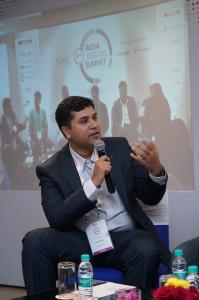 Dr. Purav Gandhi moderating the panel at IAMAI's conference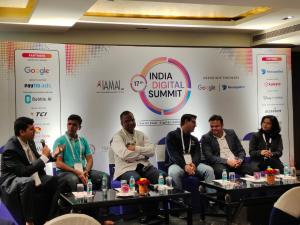 IAMAI's 17th India Digital Summit: Healthcare for All
India is on its evolution journey by combining the power of technology, policymaking, and entrepreneurship through new-age models in healthcare
India, as a country, is solving challenges in healthcare that are multifaceted – we're solving for scale, quality and we're also solving for a country where the aspiration is growing"
— Dr. Purav Gandhi
AHMEDABAD, GUJARAT, INDIA, April 5, 2023/
EINPresswire.com
/ --
IAMAI
hosted the 17th India Digital Summit in Delhi on February 20th-21st this year. With the theme of the Summit being 'Amrit Kaal: Digital India @100', the 2-day conference brought together a panel of policymakers, regulators, industry stalwarts, investors, and members of the academia will discuss and deliberate upon experiences, learnings and opportunities in the Healthcare and various other sectors.
The IDS 2023 summit was an opportunity for exchanging expert opinions from diverse fields to address the broad issues of India's inclusive developmental pathway through digital and technological advancement. Through the combined power of technology, innovative disruption, informed policymaking and entrepreneurial spirit, India has set foot into a phase of transformation, on its journey to becoming an Economic powerhouse.
Healthark Insights
' founder and CEO Dr. Purav Gandhi moderated the panel represented by Dr. K Madan Gopal - Senior Consultant, NITI Aayog, Dr. Vaibhav Kapoor - Co-founder,
Pristyn Care
, Mr. Archit Garg - Founder, Glamyo, Mr. Senu Sam - CEO & Co-Founder, Mykare Health and Dr. Tanushri Sidharth - CEO and co-founder, TaCa Healthcare and raised essential questions to draw the panel's attention to the challenges at hand. The experts came forward to share their critical insights on the topic 'Healthcare for All: Delivering Affordability & Accessibility with New Age Models'.
The panel highlighted the top priorities for the Indian healthcare sector for the coming years, including solving for the "missing middle", as laid out by the NITI Aayog. The panel discussed their experiences regarding evolving patient behavior and how new age models are working to address patients' challenges around accessibility, affordability, and quality of care. The incisive questions urged discussions in the panel around how the newer healthcare models complement the existing infrastructure while dealing with their inherent challenges like low utilization, lack of advanced technology, issues around ensuring the quality of care and driving standardization at a reasonable price point for the patient.
The discussion kicked off with Dr. Purav Gandhi elaborating on the current standing of India from a healthcare perspective, and how India is growing as a nation at a very fast pace. He noted, "India, as a country, is solving challenges in healthcare that are multifaceted – we're solving for scale, quality and we're also solving for a country where the aspiration is growing". Dr. K. Madan Gopal added perspective to the discussion by pointing out that currently most of the medical spending of a patient happens from out-of-pocket i.e., 48% of the total spend, and therefore focus must also be laid on bringing down the out-of-pocket component.
Dr. Vaibhav Kapoor highlighted why new-age healthcare models have come into existence. He elaborated on how the Indian healthcare system is facing a dual predicament when it comes to infrastructure, "On one hand, we're saying that there's an urgent need of new hospitals, and on the other, the present infrastructure is only being utilized up to 20-30% of their capacity. So there's clearly a mismatch" He referred to new-age health models as "full stack health providers" and how they are solving the 3 major challenges 1) underutilization of midsize and small hospitals and the burden on major private healthcare providers, 2) Underutilization of doctors, especially in tier-II and tier-III regions, 3) how today's patient is looking for a more convenient and pain-less process especially when it comes to secondary care.
Mr. Archit Garg talked about the challenges that patients currently face in accessing healthcare, "There are three major challenges that the patients face i.e., lack of transparency, lack of affordability, and lack of convenience". He highlighted how new age models are working towards making prices of secondary care procedures transparent by adopting fixed price models where the patient would be made aware of the cost at the time of admission which would help them manage the finances more efficiently essentially making healthcare more affordable as well. He also expanded on how these models are making healthcare more convenient "In our care delivery model, we've assigned medical counselors to all patients who act as relationship managers who will help throughout the journey by choosing the right doctor and making customized packages according to the patient's budget and convenience", says Archit.
The panel also threw light on how the overall 'consumer' behavior has evolved over the years wherein patients and their attendants increasingly seek a more personalized and affordable experience. The low penetration of insurance in India was also a topic of discussion, with the panel highlighting how complex insurance procedures can be for middle-class families. Dr. Vaibhav Kapoor added that the existing formalities only serve to increase the stress patients experience during an already exhausting surgical process. There was an in-depth discussion on how India is yet to solve the problem of the missing middle but is headed in the right direction. The panel also exchanged views on the uptake of technology and digital platforms by the new-age consumer.
The panelists also weighed in on the challenges that new-age models face, ranging from – the safety of high-risk patients, lack of on-ground staff, managing the surgical workflow, and acceptance of new-age providers by traditional players. Dr. K. Madan Gopal explained how the goals of the government and new age models align while laying additional emphasis on how the two bodies have to work in sync to uplift the health and quality of life of people, "To provide quality healthcare at reduced costs, efforts of the government alone are not enough. It needs the support of private sector to make significant and sustained progress".
The future of healthcare holds endless possibilities along with some core challenges. The conference allowed us to critically analyze the issues at hand and examine how innovative businesses can address these challenges to make a tangible difference!
About Healthark Insights
Healthark Insights is a global management consulting firm developed by a team of experts from diverse fields such as consulting, pharma, medicine, medical devices, digital health, public health, and management with a common vision to cater to the healthcare and life sciences industry, along with a relentless focus on delivering executable solutions.
Healthark Insights team helps customers make critical decisions every day through expertise that combines deep domain knowledge, rigorous research, and analysis, understanding of markets, technology, and experience. With the right experience and expertise, the team not only provides insights but also works closely with clients to execute the strategy that they have helped develop.
About IAMAI
The Internet and Mobile Association of India (IAMAI) is a not-for-profit industry body and the country's only organization representing the digital services industry with 400+ Indian and multinational corporations as its members, including established companies in diverse sectors of the digital ecosystem as well as start-ups. Its mission is to expand and enhance the online and mobile value-added services sectors. IAMAI is actively involved in creating an enabling policy environment for digital companies to thrive and add value to the economy and society. IAMAI represents varied sectors such as digital advertising, digital entertainment, TravelTech, online gaming, digital payments, Fintech, digital commerce, Edtech, Healthtech, Agritech, blockchain, Big data, ML, AI & IoT, AR/ VR, LogisticsTech and so on.
About India Digital Summit (IDS)
India Digital Summit (IDS) is a flagship event organized by the Internet and Mobile Association of India (IAMAI). The largest and oldest digital conference in India, IAMAI has been successfully organizing IDS since the last 16 years, bringing together policymakers, pioneering founders, influencers and other industry icons discuss and deliberate on India's digital growth story and the future of India across various sectors.
Purav Gandhi
Healthark Wellness Solutions LLP
+91 91600 01292
email us here
Visit us on social media:
Twitter
LinkedIn
YouTube
Panel Discussion on 'Healthcare for All' at IAMAI's 17th India Digital Summit