6th Annual Sonoma Valley Authors Festival Announces World-Class Lineup of Authors
The main tent at the Sonoma Valley Authors Festival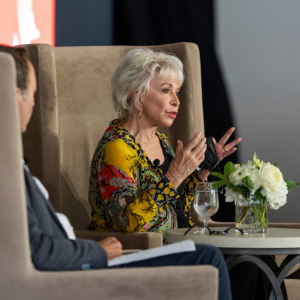 Isabel Allende a 2021 SVAF speaker, returns for SVAF 2023
World-Class Lineup of Authors at SVAF 2023: Isabel Allende, Dave Barry, Danielle Feinberg, Bonnie Garmus, Silvia Vasquez, Hugo Vikers and more
The intimacy of the Sonoma Valley Authors Festival creates amazing synergies, where the audience is as interesting as the speakers!"
— Ginny Freeman
SONOMA, CA, UNITED STATES, March 21, 2023 /
EINPresswire.com
/ -- The 2023
Sonoma Valley Authors Festival
(SVAF) announces this year's lineup of world-class authors and speakers for the annual event. Now in its sixth year, the lauded and intimate festival takes place once again at the beautiful and serene Fairmont Sonoma Mission Inn & Spa, April 28-30, 2023.
Founded in 2018, the Sonoma Valley Authors Festival is a 3-day wine country weekend like no other. This "vacation with a purpose" is a highly-curated and exclusive event, limited to 400 guests who are committed to lifelong learning. Offering a unique opportunity to hear important authors and speakers and engage Festival listeners eager for thoughtful conversations.
"The intimacy of the Sonoma Valley Authors Festival creates amazing synergies, where the audience is as interesting as the speakers!" says Festival co-founders, Ginny Freeman. "With the majority of attendees from Sonoma and the surrounding Bay Area, the Festival audience is well-educated, well-traveled, and dedicated to lifelong learning and life enrichment. The atmosphere engages speakers and audiences alike, forming connections among audience members that are as equally magical as that of the audience and speakers."
With a mission to "stimulate the Minds and Nurture the Souls of Readers," attendees will enjoy a series of "Ted talk" style events and breakout sessions where today's greatest writers and thinkers discuss their books and breakthroughs in science, technology and medicine. Filled with insightful and thoughtful opportunities to connect, the 2023 Sonoma Valley Authors Festival is a powerful and unique experience.
Festival attendees will hear the story behind world-class authors' stories, with the opportunity to meet in a comfortable and personal setting. Exploring a variety of literary genres and advances being made in science, technology and medicine, this year's festival features 20+ authors, speakers and moderators including As part of the festival, SVAF hosts free special events for the Sonoma community.
Family-friendly and free to the community, the SVAF hosts Authors on the Plaza on Saturday, April 29 from 11 a.m. to 1 p.m., under the trees on the historic Sonoma Plaza in the city center. Speakers include Stanford professor and award-winning author Abraham Verghese, the 2022 U.S. Poet Laureate Ada Limón, and humorist Dave Barry.
In celebration of community, literacy with intent to inspire intellectual curiosity in the next generation, SVAF hosts the 6th Annual Students Day at Sonoma Valley High School. Designed to engage young scholars, featured speakers include Ada Limón, Danielle Feinberg, and Silvia Vasquez-Lavado. Speakers will present and interact with over 1,400 students at Sonoma Valley High School. Each year, 3,000 to 4,000 books written by the presenting authors are given free to the students, all supported by private donations. Due to campus safety protocols, Students Day is not open to the public.
Sonoma Valley Authors Festival passes are available now at
svauthorsfest.org
/attend/. The 3-day VIP Festival Passes start at $2,750 and include all presentations, breakfasts and lunches, plus an exclusive dinner with the authors, and access to year-round events. All VIP passes include a tax-deductible donation. See all pass level options.
About Sonoma Valley Authors Festival The Sonoma Valley Authors Festival (SVAF) was founded by husband and wife team David and Ginny Freeman, who began developing the event after retiring to Sonoma County in 2016. The inaugural SVAF event was held May 4-6, 2018, in honor of their mothers who were lifelong readers and learners. The Sonoma Valley Authors Festival is made possible only through the generous support of individual donors, corporation sponsors and volunteers. The Festival has no employees, with Co-Founders Ginny and David Freeman donating their time, making a personal financial commitment, and drawing no salary. The Sonoma Valley Authors Festival is made possible through the generous support of individual donors, corporate sponsors, and committed volunteers. SVAF is a non-profit 501(c)(3) organization Tax ID #84-4846165.
WEBSITE & SOCIAL HANDLES svauthorsfest.org |
Press Kit - Logos & Photos
FB @svauthorsfestival | IG @svauthorsfest | TW @svauthorsfestival | LI @svauthorsfestival
CONTACT: Beth Schnitzer | 917.287.7064 | beth@spritzsf.com
Diana Silvestri
Spritz Marketing
+1 415-627-8229
diana@spritzsf.com
Visit us on social media:
Facebook
Twitter
LinkedIn
Instagram
YouTube
Other
Sonoma Valley Authors Festival 2022 Event Recap