The Homeland Security & Public Safety Market to Grow by 37% From 2021 to 2026, According to a New Report
Homeland Security & Public Safety Market Size [$B] - 2020, 2026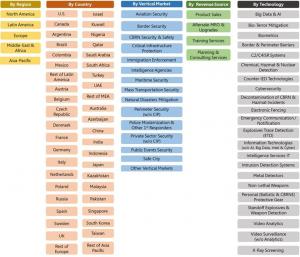 Homeland Security & Public Safety Market Segmentation Vectors
Unique Report, Presents a Bottom-Up Analysis of Hundreds (377) HLS and Public Safety Sub-Markets
WASHINGTON, DC, USA, January 27, 2022 /
EINPresswire.com
/ -- The new market report (731 tables and figures) published by HSRC, a market research company,
Homeland Security & Public Safety Global Markets – 2022-2026
With COVID-19 Impact, concludes that:
• The market is expected to grow from $482 Billion in 2021 to $658 Billion by 2026
• The HLS & PS related Big Data and Artificial Intelligence are the fasted growing market sectors
• Cybersecurity is the largest HLS & PS market sector
• The COVID-19 Pandemic is forcing security & safety organizations to focus on the cost-performance of new products and services they purchase
• The pandemic decreases the number of air and public transportation passengers
• Several technologies which have been developed to contain the pandemic will be used by the HLS & PS community, including trace detection, disaster command, communication & control and bio-terror mitigation
• New and maturing technologies (e.g., UGV, counter drone systems, big data & AI, smart sensors, 5G, TETRA & LTE emergency communication, AI-based cybersecurity and video analytics), will create new business opportunities
• China's internal security funding (larger than China defense budget) will impact the industry
• The growing climate warming related natural disasters will drive the public safety market
This 377 submarkets report is the utmost comprehensive review of the global homeland security & public safety market available today and it is considered the industry's gold standard for Homeland Security & Public Safety market research reports. The objective of this mega-report is to provide today's strategic decision-makers with an expert 360-degree, time-sensitive, detailed view of this interconnected market.
Why Trust the Report:
• Past HSRC Homeland Security & Public Safety reports. Over the previous 20 years we published every two years an updated Global Homeland Security & Public Safety Market report. Among the hundreds of clients who bought these reports are almost all the global Homeland Security & Public Safety vendors, as well as dozens of governmental security agencies
• Comprehensive Report. If you are looking for a comprehensive strategic investigation of the Global Homeland Security & Public Safety markets available today, this report is for you.
• Bottom-up Research. The report provides you with bottom-up exhaustive research of 377 Homeland Security & Public Safety submarkets.
• Unique Analysts Team. Our multilingual team brings 40 years of hands-on record in the homeland security industry, corporate positions of chairperson, CEO, CTO, chief scientist, VP R&D, VP marketing, $8 Billion of products commercialization and publication of 340 market reports
• Extensive Research. HSRC allocated all its analysts for six months to set up this market research. The team conducted interviews with dozens of experts. It reviewed over 450 reports, documents and papers published by other experts
• Multi-Source Intelligence Verification. With a highly fragmented market, we addressed each dollar spent. The global Homeland Security & Public Safety market was analyzed and crosschecked via five orthogonal viewpoints: technologies and services, sectors, countries, revenue sources and regions
• Corona Impact. We used our (published) research of the pandemic markets
Why Buy this Homeland Security Market Report?
A. Questions answered in the report include:
• What are the trends of 377 submarkets during 2022-2026?
• What are the submarkets that provide attractive business opportunities?
• How does COVID-19 affect the market?
• Who are the decision-makers?
• What drives the customers to purchase security solutions and services?
• What are the customers looking for?
• What are the technology & services trends?
• What are the 37 markets SWOTs (Strengths, Weaknesses, Opportunities and Threats)?
• What are the challenges to market penetration & growth?
B. The Global Homeland Security & Public Safety Market size data is analyzed via 5 independent key perspectives.
With a highly fragmented market we address the "money trail" – each dollar spent, and the Global Homeland Security & Public Safety market is analyzed and crosschecked via 5 orthogonal viewpoints:
- By 22 Technologies:
1. Security Related Big Data & AI
2. Video Surveillance (w/o Analytics)
3. X-Ray Screening
4. Bio-Terror Mitigation
5. Biometrics
6. Border & Perimeter Barriers
7. C2/C4ISR Systems
8. Chemical, Hazmat & Nuclear Detection
9. Counter-IED Technologies
10. Cybersecurity
11. Decontamination of CBRN & Hazmat Incidents
12. Electronic Fencing
13. Emergency Communication
14. Explosives Trace Detection (ETD)
15. Information Technologies (w/o Intel & Cyber)
16. Intelligence Services IT
17. Intrusion Detection Systems
18. Metal Detectors
19. Non-Lethal Weapons
20. Personal (Ballistic & CBRNE) Protective Gear
21. Standoff Explosives & Weapon Detection
22. Video Analytics
- By 15 Vertical Markets:
1. Aviation Security Market
2. Border Security Market
3. CBRN Security & Safety Market
4. Critical Infrastructure Protection Market
5. Immigration Enforcement Market
6. Intelligence Agencies Market
7. Maritime Security Market
8. Mass Transportation Security Market
9. Natural Disasters Mitigation Market
10. Perimeter Security (w/o CIP)
11. Police Modernization & Other 1st Responders
12. Private Sector Security (w/o CIP)
13. Public Events Security Market
14. Safe City
15. Other Vertical Markets
- By 43 National Markets:
U.S., Canada, Mexico, Colombia, Brazil, Argentina, Rest of LATAM, UK, France, Netherlands, Belgium, Sweden, Denmark, Germany, Austria, Italy, Spain, Poland, Czech Republic, Russia, Rest of Europe, Turkey , Israel, Saudi Arabia, UAE, Qatar, Kuwait, Nigeria, South Africa, Rest of MEA, India, China, South Korea, Japan, Australia, Azerbaijan, Kazakhstan, Pakistan, Taiwan, Singapore, Malaysia, Indonesia, Rest of Asia Pacific
- By 5 Regional Markets:
1. North America
2. Latin America
3. Europe
4. Middle East & Africa
5. Asia Pacific
- By 4 Revenue Source Markets:
1. Product Sales
2. Aftersale MRO & Upgrades
3. Outsourced Training Services
4. Outsourced Planning & Consulting
C. Detailed market analysis frameworks for each of the market sectors are provided, including:
• Market drivers & inhibitors
• Business opportunities
• SWOT analysis
• Competitive analysis
• Business environment
• The 2019-2026 market
D. The report includes the following appendices:
• Appendix A: National Homeland Security & Public Safety Market Background for 43 countries
• Appendix B: Homeland Security & Public Safety Industry
• Appendix C: Homeland Security & Public Safety Related Products Standards
• Appendix D: Abbreviations
• Appendix E: Acronyms
E. The market analysis addresses over 320 global homeland security and public safety standards (including links).
F. The Homeland Security market report provides extensive data of 114 leading homeland security and public safety vendors (including companies' profile, recent annual revenues, key executives, homeland security and public safety products, and contact info.)
Related Reports:
Explosives Trace Detection (ETD) Technologies & Market – 2022-2026
– With COVID-19 Impact
EDS (Tomographic Explosives Detection Systems) & BHS Market – 2022-2026
– With COVID-19 Impact
X-Ray Security Screening (Land Transportation, Defense, Postal, Perimeter, Building, Aviation, Maritime, Baggage, Cargo, People, Container & Vehicle) Market – 2022-2027 – With COVID-19 Impact
HSRC™ is an American Israeli market intelligence & technology research firm specializing in Homeland Security, Transformational Technologies, High Growth and Climate Change markets. HSRC offers premium market off-the-shelf and custom reports. HSRC provides quantified B2B and B2G research on hundreds of high-growth niche opportunities, which can impact about 12,000 global companies' revenues. Currently servicing 2500 customers worldwide, including 40% of global Fortune 1000 companies and government agencies as clients.
Washington D.C. 20004, 601 Pennsylvania Ave., NW Suite 900,
www.hsrc.biz
Contact us at: info@hsrc.biz
Dan Inbar
HSRC
dinbar@hsrc.biz