HWPL: Förderung des Friedens in Mindanao, Philippinen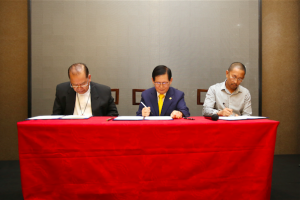 HWPL-Vorsitzender Lee Man-hee (Mitte), S.E. Fernado Robles Capalla, D.D., emeritierter Erzbischof der Erzdiözese Davao (links), und Esmael G. Mangudadatu, Gouverneur von Maguindanao (rechts), unterzeichnen das zivilgesellschaftliche Friedensabkommen am 24. Januar 2014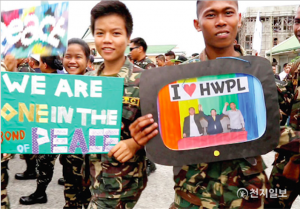 Philippinische Soldaten nehmen am Friedensmarsch teil, der nach der 2. jährlichen Gedenkfeier zur Deklaration des Weltfriedens in Maguindanao, Philippinen, am 25. Mai 2015 veranstaltet wird.
Denkmal für den Frieden und die Beendigung des Krieges in Mindanao
SEOUL, REPUBLIC OF KOREA , July 16, 2021 /
EINPresswire.com
/ -- Am 24. Januar 2014 organisierte "Heavenly Culture, World Peace, Restoration of Light (HWPL)" die Unterzeichnung eines Friedensabkommens aufgrund des 40-jährigen Konflikts in Mindanao zwischen lokalen Vertretern, sowie politischen und religiösen Leitern. Derzeit befindet sich das Friedensabkommen, welches von einer zivilgesellschaftlichen Bewegung angeleitet wird, in der Umsetzung, und hat dazu beigetragen, eine friedliche Atmosphäre für ein Friedensabkommen zwischen der Regierung der Philippinen und dem Moro-Volk zu schaffen.
HWPL führte seit Juni 2013 verschiedene Veranstaltungen und Aktivitäten auf den Philippinen durch, darunter Hilfsmaßnahmen für die Slums, Gespräche mit religiösen Leitern für interreligiöse Harmonie und die Gründung eines Jugendnetzwerks für den Frieden.
Unter anderem veranstaltete HWPL das erste "Peace Walk Festival" am 24. Januar 2014 in Mindanao, General Santos, Philippinen. Über 1.000 Menschen nahmen daran teil, darunter Gläubige verschiedener Religionen, Studenten der Mindanao State University und Mitglieder der "International Peace Youth Group".
Am selben Tag unterzeichneten Vertreter, darunter Esmael G. Mangudadatu, Gouverneur von Maguindanao und katholischer Erzbischof, ein Abkommen zur Schaffung von Frieden und Beendigung des Krieges. Laut HWPL schlug das Mindanao-Friedensabkommen einen "gesellschaftszentrierten, bewusstseinsverbessernden und handlungsorientierten" Ansatz für den Frieden vor.
Im Einklang mit diesem Ansatz arbeitet die Organisation mit lokalen Gruppen zusammen, um Friedensinitiativen durchzuführen, die sich auf die Zivilgesellschaft konzentrieren. Mit eingeschlossen sind Gruppen aus den Bereichen Bildung, Religion, Jugend- und Fraueninitiativen, um jene Faktoren zu beseitigen, die die Quellen für Konflikte darstellen, und um die Grundwerte für eine friedliche Entwicklung zu stärken.
Der Vorsitzende von HWPL, Man Hee Lee, erinnerte sich daran, als er im Alter von 84 Jahren den Leitern, die das Abkommen unterzeichneten, die Hand reichte: "Während den Teilnehmern die Unterzeichnung des Friedensabkommens gezeigt wurde, erklärte der Moderator das Friedensabkommen, das fotografiert und auf Video aufgenommen wurde. Die Menge brach in Jubel und Applaus vor Freude und Begeisterung aus."
D. Hoffmann
HWPL
+49 1522 5946068
email us here