Winnov Announces the Latest Version of Its Recorder Monitoring and Management Software with Command Center 2.5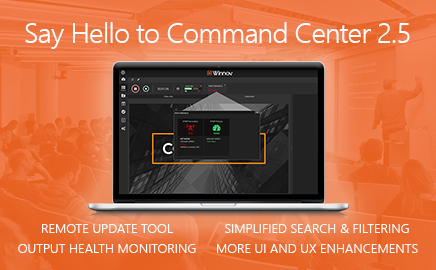 Command Center 2.5 provides additional intelligence for recording and live streaming activities and a better experience with enhancements to the user interface
SANTA CLARA, CA, USA, January 17, 2019 /EINPresswire.com/ -- Winnov releases Command Center 2.5, the newest version of its remote monitoring and control software for Cbox multi-source recorders. Command Center 2.5 features output health monitoring for recording and live streaming, enhanced search and filtering capabilities, a remote update tool for Cbox appliances, and improvements to the user interface and overall user experience.
Command Center 2.5 provides even more insight into lecture capture and enterprise video deployment activities with the new output health monitoring feature. Users now have the ability to view real-time, output health status and metrics related to video quality, performance, and network status during recordings and live streams.
Additionally, enhanced search and filtering capabilities have been added in this release. Command Center users can now easily search and sort by session names, rooms, appliances, appliance status, and recording & streaming status with just a couple of clicks – allowing them to view and manage their deployments more efficiently.
A new remote update tool streamlines the software update process and ensures that Cbox appliances are always up to date and equipped with the latest software features. The tool lets users view Cboxes available for update and allows them to conveniently choose any or all appliances to be remotely updated via the Command Center user interface.
Additional enhancements have been added in 2.5 for an even better user experience in Winnov's Command Center software. This list includes; "Destinations" columns in menus, ability to clone and download session templates, live video input previews, and auto-save functionality.
About Winnov
Winnov is a technology leader in video capture & streaming and maker of Cbox – the AV platform that evolves with customer needs. Cbox solutions provide organizations with a cost-effective way to easily capture and share rich media experiences. Fortune 500 companies, leading universities, training organizations, and government agencies rely on Cbox to create the most engaging live and on-demand video experiences for the web and mobile devices. For more information, visit www.winnov.com.
3910 Freedom Circle, Suite 102, Santa Clara, CA 95054
P: (888) 315-9460
F: (408) 533-8808
Theo Phan
Winnov, Inc.
+1 888-315-9460
email us here

EIN Presswire does not exercise editorial control over third-party content provided, uploaded, published, or distributed by users of EIN Presswire. We are a distributor, not a publisher, of 3rd party content. Such content may contain the views, opinions, statements, offers, and other material of the respective users, suppliers, participants, or authors.