The Beauty Foodie Club Launches Fun Trip Happily Divorced Girls Party in Maui
We're the Only Club Helping Members Fund Gift Fun Maui Trips
Share a Fun Weekend with Your BFF, and Have the Time of Your Life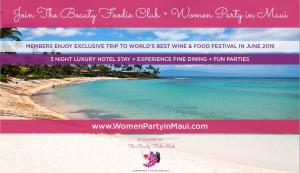 Join the Club Before January 15, 2019 to Enjoy 2 Round Trip Flights from LAX to Maui for Our Exclusive Food & Wine Festival Trips
The Beauty Foodie Club will help members fund gift and share; fun Maui girl party weekend trips for 'Best Friends' who have experienced a recent divorce.
Join before January 15, 2019 to enjoy and share an exclusive fun trip to The Kapalua Wine & Food Festival, or The Maui Film Festival"
— Carlos Cymerman, Fun Advocate+Founder, The Beauty Foodie Club
SANTA MONICA, CA, UNITED STATES, October 31, 2018 /
EINPresswire.com
/ -- Recruiting for Good is Celebrating Women in Los Angeles; by sponsoring
The Beauty Foodie Club
. The staffing agency will help club members fund gift fun trip Happily Divorced
Girls Party in Maui
; for best friends who have experienced a recent divorce, and are ready to start loving life again.
According to Recruiting for Good, Founder Carlos Cymerman, "Divorce is not the end, it's just a new beginning, we love helping Beauty Foodie Club members support their BFFs thru tough times. Nothing is more therapeutic, than a fun girlfriend getaway. Our fun Beauty Foodie Maui Weekend Trips are the perfect gift to show her how much you care."
Fun 'Beauty Foodie Maui' Trips include; 2 round-trip flights from L.A. to Maui, and a 3-Night luxury hotel resort stay in Wailea.
How to Join the Club and Help Your BFF
Attend the next
Beauty Foodie Party
, the club is selective about membership. Once invited to the club, member can participate in recruiting for good's confidential and personal gift funding Maui trip service.
Carlos Cymerman adds, "Join the Club before January 15, 2019 to surprise your best friend and share one of Our Exclusive Fun Trips in June to either the Kapalua Wine and Food Festival, or the Maui Film Festival."
About
The Beauty Foodie Club is an invite only Santa Monica based Social Club Celebrating and Rewarding Women Who Make a Difference; that helps members fund fun fulfilling life experiences to share with family and friends. Members enjoy fine dining, fun parties, and luxury travel to join come to our next Beauty Foodie Party in Santa Monica.
www.TheBeautyFoodie.Club
Recruiting for Good is a socially progressive staffing company in Santa Monica, finding talented professionals great jobs, since 1998. Companies retain us to find the best talent in Accounting, Finance, Engineering/IT, Marketing, and Sales professionals. We reward referrals with fun life experiences. We sponsor
www.OurMomsWork.org
. and the Fun Social Club Celebrating Women
www.TheBeautyFoodie.Club
Our Moms Work is a Santa Monica based community service sponsored by Recruiting for Good; offering cost free personal career mentoring services. In 2019, coming out with funded services to offset the cost of running a business for mom entrepreneurs and business owners. Our fun mission..."When we love life...the party never ends."
www.OurMomsWork.org
. Starting in 2019, one more way we help moms
www.FundSummerCamp.com
Carlos Cymerman
The Beauty Foodie Club
+1 310-720-8324
email us here
Visit us on social media:
LinkedIn

EIN Presswire does not exercise editorial control over third-party content provided, uploaded, published, or distributed by users of EIN Presswire. We are a distributor, not a publisher, of 3rd party content. Such content may contain the views, opinions, statements, offers, and other material of the respective users, suppliers, participants, or authors.