Readout of Secretary Azar's Community Pharmacy and Patient Roundtable in Pittsburgh
Today, Health and Human Services Secretary Alex Azar and Centers for Medicare & Medicaid Services Chief of Staff Paul Mango traveled to Pittsburgh, Pennsylvania to participate in a roundtable discussion at Spartan Pharmacy. The discussion included community pharmacists and their senior patients and covered the legislation recently signed by President Trump banning pharmacy gag clauses.
This significant bipartisan achievement is one of many actions the Trump administration has taken since the President rolled out the American Patients First Blueprint to Lower Drug Prices and Reduce Out-of-Pocket Costs. Pharmacists can now always inform patients when it's possible to pay less out of pocket for prescription drugs, in both private insurance plans and in Medicare prescription drug plans.
At the roundtable, Secretary Azar stressed the importance of patients' asking their pharmacists if they are getting the best deal on the prescription drugs they need. He listened to the participants' healthcare concerns and their ideas to lower prescription drug prices. Secretary Azar concluded the roundtable by thanking the participants for the robust discussion and voiced his and President Trump's commitment to lower healthcare and prescription drug costs for American patients.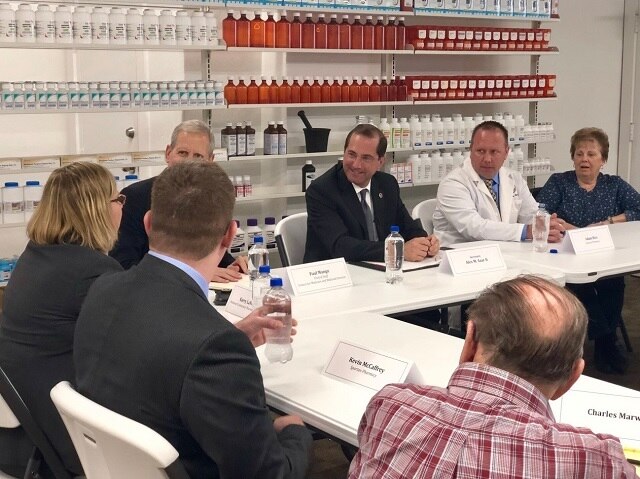 To read Secretary Azar's full statement on the legislation banning pharmacy gag clauses, please visit: https://www.hhs.gov/about/news/2018/10/10/hhs-secretary-azar-praises-results-of-president-trumps-leadership-on-drug-pricing.html

EIN Presswire does not exercise editorial control over third-party content provided, uploaded, published, or distributed by users of EIN Presswire. We are a distributor, not a publisher, of 3rd party content. Such content may contain the views, opinions, statements, offers, and other material of the respective users, suppliers, participants, or authors.