Autec Power Systems Releases Informative New Product Marketing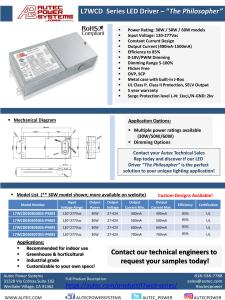 Autec will be rolling out new product briefs, starting with "The Philosopher" L7WCD series constant current LED Driver.
WESTLAKE VILLAGE, CA, USA, October 8, 2018 /EINPresswire.com/ -- AUTEC POWER SYSTEMS RELEASES INFORMATIVE NEW PRODUCT MARKETING
New Product Launches Now Come With Complete Technical and Visual Information
Westlake Village, CA (October 8th, 2018) - Autec Power Systems just finished compiling their first set of new graphic tear sheets – set to provide the most informative marketing tools for their partners and customers. Autec will be rolling out product briefs frequently, starting with "The Philosopher" L7WCD series. This constant current LED driver is popularly known as "the inspector's best friend"! It comes with a built in J-Box configuration, dimming capabilities, wide output range, and multiple power ratings - making it perfect for indoor LED lighting retrofit applications! More details along with full technical data sheets can be found on their website as linked below.
https://autec.com/product/l7wcd-series/
Also be on the lookout as Autec is currently updating and adding new products to all categories. Coming next month will be new product launches from the following categories: Wall Mounts, Desktop, and Specialty High Power models! Trust in Autec's long history of performance and quality for all your power supply needs. To see more about their exciting new power supply solutions and full catalogue with product information, visit www.autec.com
PR Contact:
Gregg Angell
VP, Operations
(818) 338 – 7788
###
About Autec Power Systems
Autec Power Systems designs and produces innovative power supply product solutions. As an American company founded in 1989, OEM hardware design engineers have come to rely on Autec Power Systems for efficient and reliable standard, modified, and custom power supply solutions. Their corporate headquarters is located in Westlake Village, California, with manufacturing facilities based in other strategic global regions.
Autec Power Systems provides their power supply solutions and products directly to Original Equipment Manufacturers (OEMs) and systems integrators. Customers can also get product support through our global distributors, as well as through our national network of regional manufacturer's representatives. Autec Power Systems products are globally recognized and found in the end-products of the world's leading high-technology Original Equipment Manufacturers (OEMs) in computing, energy, industrial controls, medical, POS/Retail, security, smart-lighting, telecommunication, test instrumentation, wireless and other high-end applications.
Gregg Angell
Autec Power Systems
8183387788
email us here
Visit us on social media:
Facebook
Twitter