American Amnesia Perform At The Well in Brooklyn NYC 11pm Thursday September 20 2018
American Amnesia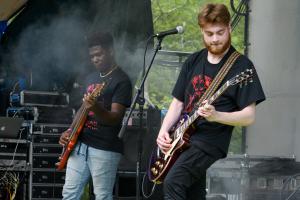 Will Wilson and Patrick Nemaizer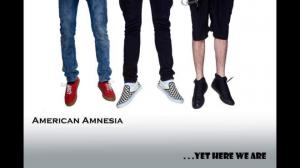 Debut album from American Amnesia . . .Yet Here We Are
Connecticut based American Amnesia take their high energy Alternative Rock show to The Well in Brooklyn, NY 11pm Thursday, September 20, 2018.
BROOKLYN, NY, UNITED STATES, September 11, 2018 /
EINPresswire.com
/ -- Connecticut Alt-Rockers
American Amnesia
take their
show
on the road to NYC 11pm Thursday, September 20th 2018, performing their debut album, "...YET HERE WE ARE" at
The Well
272 Meserole Street, Brooklyn, NY 11206
This is the young power trio's first performance outside Connecticut. The band's Debut Album on Prophet Motive Records, ". . .YET HERE WE ARE" released on July 1, 2018 is AVAILABLE @ Amazon, Anghami, Apple Music, ClarMusica, Deezer, Google Play, I-Heart Radio, I-Tunes, KK box, Media Net, Napster, Pandora, Saavn, Shazam, Soundcloud, Spotify, Tidal and at
http://www.AmericanAmnesiaBand.com
AMERICAN AMNESIA is an alternative/neo-progressive rock band from Torrington, CT. featuring Patrick Nemaizer on vocals and guitar, Sam Cesnak on drums and Will Wilson on bass.
The band was born in 2016 at Oliver Wolcott High School in Torrington, Connecticut. Drawn together by a love of writing and performing many diverse styles of music from Hard Rock/Progressive to Alternative and Rap, this young trio has crafted a sound all their own.
Combining rock, hip hop and metal, American Amnesia is reminiscent of bands like Alice in Chains, Tool, Stone Temple Pilots, Blink 182, Twenty-One Pilots, Highly Suspect, Greta Van Fleet, Metallica, Led Zeppelin and the Killers.
You can follow American Amnesia on social media and online at
http://www.AmericanAmnesiaBand.com
SUBSCRIBE TO THE AMERICAN AMNESIA YouTube Channel:
https://www.youtube.com/AmericanAmnesia
LIKE US ON FACEBOOK:
https://www.facebook.com/AmericanAmnesia
BOOKINGS: PMA MANAGEMENT 860-605-4080
Howard Nemaizer
PMA Management
860-605-4080
email us here
Howard Nemaizer
PMA Management
860-605-4080
email us here
LOVE U - (OFFICIAL MUSIC VIDEO)

EIN Presswire does not exercise editorial control over third-party content provided, uploaded, published, or distributed by users of EIN Presswire. We are a distributor, not a publisher, of 3rd party content. Such content may contain the views, opinions, statements, offers, and other material of the respective users, suppliers, participants, or authors.