Alternative Rockers American Amnesia Perform 3pm This Sunday August 19th at the Wolcott Country Fair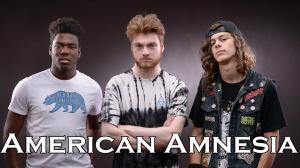 (L-R) Will Wilson bass, Patrick Nemaizer lead vocals/guitar, Sam Cesnak drums/vocals
Patrick Nemaizer - vocals/guitar
Sam Cesnak - drums/vocals
Torrington, Connecticut Alt-Rockers American Amnesia Perform their Debut Album ...YET HERE WE ARE
WOLCOTT, CONNECTICUT, UNITED STATES, August 13, 2018 /
EINPresswire.com
/ -- Sunday's American Amnesia concert at the
Wolcott Country Fair
is the Torrington, Connecticut alternative rock trio's first live performance since the July 1st release of their debut album, ...YET HERE WE ARE.
The date also marks the release of the band's second music video, "Love U".
American Amnesia's August 19th performance will be photographed by legendary rock photographer
James R. Anderson
and filmed by acclaimed videographer Mike Stearns for a live concert video.
Attendees to Sunday's 3pm show get a chance to WIN a FREE Rafting/Zip Line Trip from Berkshire East. See the band's website for details:
http://www.AmericanAmnesiaBand.com
American Amnesia LIVE Sunday 3pm Wolcott Country Fair 245 Wolcott Road, Wolcott, CT phone: 203-879-5466. Full day admission to the Fair is $6.00.
Click here for directions.
...YET HERE WE ARE - Available @ Amazon, Anghami, Apple Music, ClarMusica, Deezer, Google Play, I-Heart Radio, I-Tunes, KK box, Media Net, Napster, Pandora, Saavn, Shazam, Soundcloud, Spotify, Tidal and at
http://www.AmericanAmnesiaBand.com
PMA Management
Prophet Motive Records LLC
8606054080
email us here
American Amnesia - Time (Official Music Video)

EIN Presswire does not exercise editorial control over third-party content provided, uploaded, published, or distributed by users of EIN Presswire. We are a distributor, not a publisher, of 3rd party content. Such content may contain the views, opinions, statements, offers, and other material of the respective users, suppliers, participants, or authors.