Global Smart Medical Devices Market Research and Forecast 2018-2023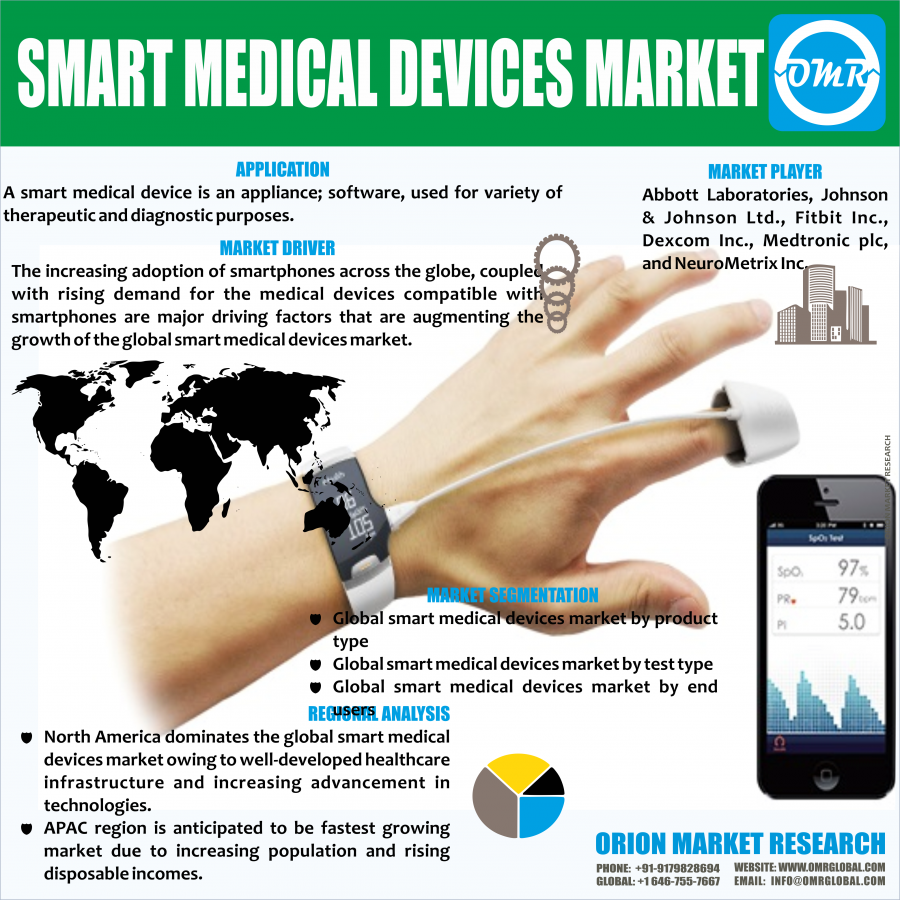 Global Smart Medical Devices Market, Size, Share, Market Intelligence, Company Profiles, Market Trends, Strategy, Analysis, and Forecast 2018-2023
INDORE, INDIA, August 6, 2018 /EINPresswire.com/ -- Increasing adoption of smartphone and compatible devices are the major driver for the growth of smart medical devices market
Orion Market Research (OMR), recently published a market research report on the global smart medical devices market. According to the OMR analysis, the global smart medical devices market is expected to grow at a significant rate during 2018-2023. The global smart medical devices market has witnessed a significant growth due to increasing adoption of smartphone and other compatible devices. The global smart medical devices market is segmented on the basis product type, test type, end users, and geography. The report provides detailed and insightful chapters on market overview, key findings, strategic recommendations, market estimations, market determinants, key company analysis, competitive landscape, company profiling, market segmentation, geographical analysis, analyst insights.
Browse at Full Reports: https://www.omrglobal.com/industry-reports/smart-medical-devices-market/
"The global smart medical devices market has been motivated by the adoption of smartphone and technological advancement. The increasing adoption and use of mobile technologies is improving healthcare system and quality of patients. The introduction of mobile computing devices such as PDAs (Patent Ductus Arteriosus), smartphone and tablet computes has greatly impacted the healthcare sector. Healthcare professionals use smartphone or tablet combining both computing and communication in a single device. There are various applications that are used for the treatment of patients suffering from several diseases. For example: iWander app is an application used for the patient living with the Alzheimer's disease or dementia. This app use GPS function of the smartphones for tracking the location of the patients. If the patient travels to any unknown location or away from the home, a signal is send to the family of the patient or caretaker to have a check on the patient's status. That patient can be easily tracked by using geo-location coordinates.
The market on the basis of geography is divided among four major regions – North America, APAC, Europe, and Rest of the world. North America is the leading market. The market is expected to grow at a stable CAGR. North American market is driven by high adoption of technology and innovation in medical and healthcare services in the region. North America market is followed by Europe, Asia Pacific and Rest of the world. Asia Pacific market is expected to have the highest CAGR amongst all regions during the forecast period of 2018-2023. APAC market is driven by improving economic conditions and increasing demand for innovative products.
THE REPORT COVERS:
Comprehensive research methodology of Global Smart Medical Devices Market.
This report also includes detailed and extensive market overview with Analyst insights & key market trends.
Exhaustive analysis of macro and micro factors influencing the market guided by key recommendations.
Analysis of regional regulations and other government policies impacting the Global Smart Medical Devices Market.
Insights about market determinants which are stimulating the Global Smart Medical Devices Market.
Detailed and extensive market segments with regional distribution of forecasted revenues.
Extensive profiles and recent developments of market players.
For related reports please visit https://www.omrglobal.com/reports-category/medical-devices/
About Orion Market Research
"OMR is a market research company known for its qualitative and quantitative research reports. The company aims to provide business insights for decision making to our global clients. OMR provides syndicated and customized research reports, company profiling, consulting and other research-based services to global clients. At OMR, we believe in overcoming the competition by delivering quality reports on time. The "Orion" in our name signifies rising up in the sky, we are committed to providing valuable insights that will help you rise and shine. We follow our core values to achieve the aim of providing best solution and satisfaction to our clients by maintaining quality reports in stipulated time. OMR provide customer-centric reports which facilitate our subscribers to know their touch points which can be capitalized for their revenue growth and to gain a competitive edge. Our thorough analysis starts right from grass root level wherein we extend lens not only to our clients but also to the customer of our clients, this exclusiveness helps our subscribers in effective decision making and to improve business strategy."
Anurag Tiwari
Orion Market Research Pvt. Ltd.
+919179828694
email us here
Global Smart Medical Devices Market Research and Forecast 2023

EIN Presswire does not exercise editorial control over third-party content provided, uploaded, published, or distributed by users of EIN Presswire. We are a distributor, not a publisher, of 3rd party content. Such content may contain the views, opinions, statements, offers, and other material of the respective users, suppliers, participants, or authors.