Jupiter Rehabilitation and Healthcare Center Raises the Standard of Care Through Multi-Million Dollar Renovations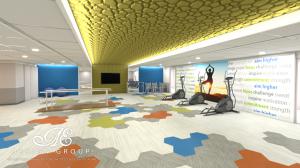 Jupiter Rehabilitation and Healthcare Center will feature a newly-renovated rehabilitation gymnasium. The state-of-the-art training space will feature equipment specialized in supporting patients recovering from orthopedic, vascular, cardiac, and neurolog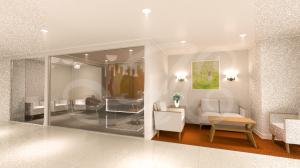 Renovations at Jupiter Rehabilitation and Healthcare Center will feature newly remodeled family and patient spaces to allow for those healing to enjoy the company of their loved ones in a serene and tranquil environment.
Jupiter, Florida nursing and rehabilitation center undergoes multi-million dollar renovations to enhance lives of patients and residents.
JUPITER, FLORIDA, UNITED STATES OF AMERICA , August 1, 2018 /
EINPresswire.com
/ -- JUPITER, Fl. - Jupiter Rehabilitation and Healthcare Center, formerly The Rehabilitation Center at Jupiter Gardens, located on Thelma Avenue in Jupiter, announced the building's multi-million dollar renovation project will continue toward its next phase of completion. The center's administration announced in 2017 that the building would undergo a mass renovation project to enhance the lives of those currently healing and residing at Jupiter Rehabilitation and Healthcare Center.
"The mission of our organization is to provide our patients, families, and team members with incredible experiences and opportunities for healing and self-care. We are excited to share Jupiter Rehabilitation and Healthcare Center's beautiful healing space with those in the community. The renovation project is coupled with our dedicated team of professionals who bring so much to the lives of those we serve; we are proud to call them #TheCareRiteDifference," shared Ashley Romano, National Director of Patient Experience/Research Development at CareRite Centers, LLC.
Jupiter Rehabilitation and Healthcare Center boasts state-of-the-art healing suites for those enrolled in the center's rehabilitation program. The center is the area's leader in rehabilitation services, specializing in short term and subacute rehabilitation, and skilled nursing care for those recuperating from illness, injury, and surgery.
Jupiter also proudly shares their commitment to supporting self-care and mindfulness in the healthcare setting by offering non-pharmacological healing interventions to patients, families, employees, and the adult caregiver through the Urban Zen Integrative Therapy program. Urban Zen Integrative Therapy, commonly referred to as "UZIT," was founded by fashion giant, Donna Karan, whose mission was to change the way in which we provide care by "putting the 'care' back in 'healthcare.'" Jupiter Rehabilitation and Healthcare Center offers UZIT services complimentary on a scheduled basis.
Jupiter Rehabilitation and Healthcare Center is a member of the national CareRite Centers Network with sister centers across the state of Florida in Tampa, Boca Raton, and Miami. Like all communities within the CareRite Centers network, the uncommon denominator at Jupiter Rehabilitation and Healthcare Center is that every touchpoint of every experience will not only meet, but will exceed your expectations. For more information on Jupiter Rehabilitation and Healthcare Center, please visit
www.JupiterRehab.com
; "Rehabilitation and Nursing at Its Best!"
For press inquiries or to schedule a private tour, please contact Ashley Romano at: aromano@careritecenters.com
Ashley Romano
CareRite Centers, LLC
631.617.7785
email us here
Distribution channels:

EIN Presswire does not exercise editorial control over third-party content provided, uploaded, published, or distributed by users of EIN Presswire. We are a distributor, not a publisher, of 3rd party content. Such content may contain the views, opinions, statements, offers, and other material of the respective users, suppliers, participants, or authors.