MONET Does The Shiggy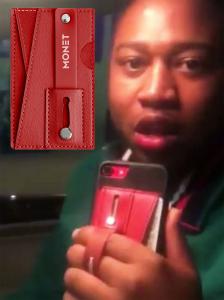 Shiggy uses the MONET phone wallet when doing the Shiggy Dance
BROOKLYN, NEW YORK, UNITED_STATES, July 30, 2018 /
EINPresswire.com
/ -- Shiggy's viral dance craze, #DoTheShiggy challenge to Drake's #InMyFeelings, is supported by the hottest phone accessory out right now, the MONET. It allows you to Shiggy, take selfies and much more safely without damaging your phone or your pockets. See what everyone is talking about and see Shiggy's moves.
ABOUT MONET BRAND
The MONET brand, founded by Ikey Srour and Sam Schneider in 2017, is the latest and hottest phone accessory out. The MONET has 2 pockets that can securely hold credit cards, ids, cash and more. It also packs a slim grip that slides open when you're holding it. Holding your phone with your fingers in the MONET grip will reduce the chances of dropping it making using your phone for texting and selfies more comfortable and reducing your need to super stretch and strain your fingers when using large screens. The grip of the MONET offers a special kickstand making it perfect for reading, watching movies, video chat and more. MONET comes in a variety of colors and patterns and is available everywhere for online retailers.
On Amazon
https://www.amazon.com/MONET-Wallet-Expanding-Stand-Smartphones/dp/B077YX3KF7/ref=sr_1_3?ie=UTF8&qid=1532366740&sr=8-3&keywords=monet+phone+wallet
WWW.MONETBRAND.COM
IG @MONET_BRAND
David Schure
Schure Media Group
9734023908
email us here
Do The Shiggy

EIN Presswire does not exercise editorial control over third-party content provided, uploaded, published, or distributed by users of EIN Presswire. We are a distributor, not a publisher, of 3rd party content. Such content may contain the views, opinions, statements, offers, and other material of the respective users, suppliers, participants, or authors.