American Amnesia Perform Debut Album at the Wolcott Country Fair on Sunday, August 19, 2018 3PM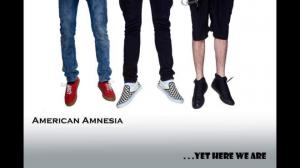 Debut album from American Amnesia > > > > > , . .Yet Here We Are
Patrick Nemaizer - vocals/guitar
Sam Cesnak - drums/vocals
American Amnesia Perform their debut album ...Yet Here We Are in its entirety at the Wolcott Country Fair on Sunday, Aug. 19th 3PM
American Amnesia Perform at their debut album ...Yet Here We Are at the Wolcott Country Fair on Sun. Aug. 19th 3PM"
— PMR
WOLCOTT, CT, USA, July 18, 2018 /
EINPresswire.com
/ -- American Amnesia will perform their debut album ...Yet Here We Are in its entirety on Sunday, August 19, 2018 3PM at the Wolcott Country Fair 245 Wolcott Road, Wolcott, CT 06716.
This marks the Torrington, Connecticut alternative rock trio's first live performance since the July 1st release of their debut album, . . .Yet Here We Are on Prophet Motive Records, and also introduces a new member to the band, Will Williams, who has replaced Gus Pac on bass.
. . .YET HERE WE ARE, the debut album from AMERICAN AMNESIA is available @ Amazon, Anghami, Apple Music, ClarMusica, Deezer, Google Play, I-Heart Radio, I-Tunes, KK box, Media Net, Napster, Pandora, Saavn, Shazam, Soundcloud, Spotify, Tidal and at
http://www.AmericanAmnesiaBand.com
© ℗ 2018 Prophet Motive Publishing BMI, a Division of Prophet Motive Records.
Follow and sub to American Amnesia:
http://www.AmericanAmnesiaBand.com
http://www.facebook.com/AmericanAmnesia
http://www.instagram.com/AmericanAmnesiaBand
http://www.twitter.com/AmnesiaAmerican
http://www.youtube.com/AmericanAmnesia
Prophet Motive Records
860-605-4080
email us here
PMR
TIME (OFFICIAL MUSIC VIDEO)

EIN Presswire does not exercise editorial control over third-party content provided, uploaded, published, or distributed by users of EIN Presswire. We are a distributor, not a publisher, of 3rd party content. Such content may contain the views, opinions, statements, offers, and other material of the respective users, suppliers, participants, or authors.